Carolyn McCarthy
House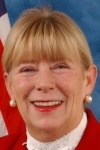 Birthdate: Jan. 5, 1944
Birth Place: Brooklyn, NY, United States
Residence: Mineola, NY
Religion: Roman Catholic
First Elected: 1996
Gender: Female

Candidacy
Party: Democratic
State: New York
Office: House
District: District 4

Education
Undergraduate: Glen Cove Nursing School
Degree: LPN

Carolyn McCarthy was born in Brooklyn, N.Y., and now resides in Mineola. She earned a nursing degree in 1964 from Glen Cove Nursing School.
McCarthy worked as a nurse before winning election to the U.S. House in 1996, campaigning on a gun control platform following the death of her husband and the wounding of her son during a shooting rampage on a Long Island Rail Road train.
McCarthy is the first congresswoman from Long Island.
She is widowed and has one son.
Profile
Carolyn McCarthy was a political neophyte when first elected in 1996. The suburban housewife and nurse was thrust into the spotlight after Colin Ferguson boarded a Long Island Rail Road commuter train, opened fire with a high-powered pistol and killed her husband, Dennis, and seriously wounded her son.
McCarthy's personal tragedy propelled her to Congress to fight for gun control, yet for years she has watched politicians of both parties shelve her signature issue.
McCarthy attempted again in 2011 to raise the issue following the shooting of then-Rep. Gabrielle Giffords of Arizona. She sponsored a bill to ban high-capacity ammunition magazines and again expressed her support for a bill requiring background checks on all gun sales.
McCarthy describes herself as a fiscal conservative. She is active in education and health care policy.
As a new ranking member on a Financial Services subcommittee, she has advocated for stronger focus on the financial services industry as it relates to protecting consumers.
She backed reauthorization of the U.S. Export-Import Bank, which President Barack Obama signed in June 2012.
Locally, she was involved in the formation of the Long Island Economic Advisory Board.
She also is a sponsor of the 2011 Safe Drivers Act _ encouraging all 50 states to ban texting while driving and asking for a federal study of distracted driving. She also sponsored a bill to end corporal punishment in schools.
A year before McCarthy was sworn in as a member of Congress, she sat in the gallery overlooking the floor and broke a rule of the House.
"I sat up in the balcony and yelled down at those who were voting against the assault-weapons ban," she recalled. And a year later: "I walked in, I looked up to the balcony and said, 'My God! Here I am.' It was a scary feeling, but it was a good feeling."
McCarthy's improbable path to Congress spawned a made-for-television movie. Barbara Streisand's production company broadcast "The Carolyn McCarthy Story" in 1998. Despite the attention from Hollywood, the congresswoman said a top priority is to simply "stay normal" and in step with her voters.
Source: Associated Press