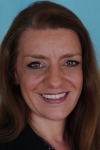 Birthdate: Nov. 3, 1966
Birth Place: Philadelphia, PA, United States
Residence: Ventnor, NJ
Religion: Episcopalian
Gender: Female

Education
Cassandra Shober was born and raised in Philadelphia and now lives in Ventnor, N.J. She received a bachelor's in fine arts from the Pratt Institute.
Shober works in fashion, art and marketing, and is the office manager at her husband's law office. She's volunteered with the United Way of Atlantic County, Jersey Shore Council Boy Scouts of America and other charities.
She and her husband, Bard, have a son.
Profile
Cassandra Shober won the 2012 Democratic primary to take on incumbent Republican Rep. Frank LoBiondo in the November general election.
Shober in July 2012 attacked LoBiondo for not focusing on creating jobs and instead making a political vote against the 2010 Affordable Care Act. She said that is a waste of time and that LoBiondo should instead be passing laws that will help get people back to work.
Shober also said repealing the act would hurt New Jersey and be detrimental to the health of people in the 2nd Congressional District. She said LoBiondo has the wrong priorities and is out of touch with the district.
She wants to end tax breaks for the wealthy, oil companies and big businesses and divert those funds to local communities to hire teachers and police. She is also in favor of investing in infrastructure to spur the economy.
Shober also advocates for investment in education, including art, music, foreign language and technology. And she has promised to "place the needs of our veterans as a high priority," focusing on health care and helping them transition to civilian life.
Shober is a supporter of the Lily Ledbetter Fair Pay Act, and supports health care services for women provided by groups like Planned Parenthood. She has promised to protect equal rights.
On her campaign website, creating jobs is at the top of Shober's list of priorities.
"For every job created, we have one less person on public assistance, and one more individual making a positive contribution to our economy," she says, adding that this is the "only effective way to grow an economy."