Cathy Anne McMorris Rodgers
Cathy Anne McMorris Rodgers
House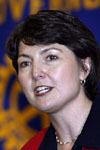 Birthdate: May 22, 1969
Birth Place: Salem, OR, United States
Residence: Deer Park, WA
Religion: Nondenominational Christian
First Elected: 2004
Gender: Female

Candidacy
Party: Republican
State: Washington
Office: House
District: District 5

Education
Undergraduate: Pensacola Christian College
Degree: BA

Graduate: University of Washington
Degree: MBA

Cathy McMorris Rodgers was born in Salem, Ore., and currently lives in Deer Park, Wash. She earned a bachelor's degree from Pensacola Christian College in Florida and a master's degree at the University of Washington.
Rodgers was a legislative assistant to state Rep. Bob Morton. When Morton was appointed to the state Senate, she was appointed to succeed him in 1993. She won election in September 1994 and was re-elected to four more terms. She served as state House minority leader from 2002 to 2004.
She resigned her state House leadership position to run for the U.S. House and won election to Congress in 2004.
Rodgers and her husband, Brian, have two children.
Profile
Cathy McMorris Rodgers rose to become the highest-ranking Republican woman in the U.S. House, and clung to her conservative roots as she continued to represent the solidly Republican eastern Washington district.
Republican 2012 presidential candidate Mitt Romney named Rodgers to lead his campaign team in the U.S. House. Rodgers, now in her fourth term in Congress, also co-chairs the Romney campaign in Washington state. Prior to Romney's selection of Rep. Paul Ryan, she was mentioned as a dark horse candidate to become Romney's vice presidential nominee.
In July 2012, she was among a bipartisan group of lawmakers who urged the House to bring up the farm bill before members went on its August recess. "The message from our constituents and rural America is clear: We need a farm bill now," the letter said.
After the Supreme Court's June 2012 ruling upholding the 2010 health care reform bill, she said she was disappointed in the ruling but it will have "no impact on Congress' continuing efforts to repeal the law."
Rodgers continues to champion conservative standards, particularly small government and low taxes. She voted against the October 2008 Wall Street bailout, the 2009 approximately $800 billion economic stimulus package, and the 2010 health care reform bill. She is an advocate for a balanced budget amendment, and has spoken out against bailing out financially ailing foreign countries.
She rose in influence among GOP House members after the Democratic gains in November 2008. She was elected vice chair of the House Republican Conference, working with GOP leaders to approve committee assignments, manage floor debates and develop the party's communications strategy. She said the party must broaden its appeal and reach out to women, minorities and young people.
Rodgers also led an effort by House Republicans to reform congressional earmarks.
She has said Republicans lost their congressional majorities in 2006 because the party became too enamored with staying in power and strayed from bedrock conservative values.
She strongly supports hydroelectric dams that are a major source of electricity in Washington. Although environmentalist campaigns to breach some dams have faded in recent years, Rodgers has sought to revive the issue and has strongly advocated hydropower.
She attracted criticism from environmental activists for spearheading an effort to rewrite the Endangered Species Act during her first term.
During Rodgers' 2006 re-election run, she traded familiar jabs _ corruption and the unpopular Bush administration versus tax-and-spend liberalism _ with her opponent, Peter Goldmark, whom she defeated with 56 percent of the vote.
Her party lost its House majority, however. Notable votes in her second term include her support on two separate, unsuccessful attempts by the House to override President George W. Bush's veto of a children's health insurance program.
Rodgers became one of the few women ever to give birth while in Congress when her son was born in April 2007. He was diagnosed with Down syndrome, and Rodgers went on to found the House Down Syndrome Caucus.
Her first U.S. House campaign in 2004 brought national GOP support. She faced a wealthy Democratic hotel owner, but Republicans matched weeks of negative ads. She was outspent, but her history in rural and economically depressed Stevens County helped.
After winning with about 60 percent of the vote, Rodgers became the House freshman class' spokeswoman to the GOP leadership.
Source: Associated Press