Charles Bernard Rangel
House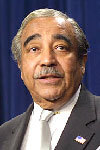 Birthdate: June 11, 1930
Birth Place: New York, NY, United States
Residence: New York, NY
Religion: Catholic
First Elected: 1970
Gender: Male

Candidacy
Party: Democratic
State: New York
Office: House
District: District 13

Education
Undergraduate: New York University
Degree: BS

Graduate: St. John's University
Degree: LLB

Charles Rangel was born in New York City, where he still resides. He earned a bachelor's degree in 1957 from New York University and a law degree in 1960 from St. John's University.
Rangel served in the Army from 1948 to 1952, during the Korean War. He rescued 40 men from behind enemy lines, winning the Purple Heart and the Bronze Star. He worked for the U.S. Attorney's Office for New York City and was an attorney for the New York City Housing Redevelopment Board.
He was elected to the state Assembly in 1966. He served until 1970, when he was elected to the U.S. House.
Rangel and his wife, Alma, have two children.
Profile
Charles Rangel, for the first time in four decades, was in trouble politically in 2012. Publicly censured by his colleagues in the House of Representatives for ethics violations, the dean of the New York delegation faced a strong primary challenge in a newly drawn district that appeared to favor his Hispanic opponent.
At 82, he sat down for press conferences and used a walker to get around; his would-be successor made repeated references to age. Still charming and charismatic, dapper as ever, he exuded confidence and cracked jokes in his distinctive, gravelly voice while pundits wondered aloud about his future.
Then Rangel did what he has done every two years since 1970: He won.
But barely.
He knocked off state Sen. Adriano Espaillat and three others in a primary where he won less than 45 percent of the vote. It wasn't settled for almost two weeks after all the paper ballots were counted. Rangel then pivoted toward a general election where he is virtually guaranteed a win in the heavily Democratic 13th District in Harlem and the Bronx.
As of mid-July 2012, no Republican had stepped forward to challenge Rangel.
In December 2010, a month after winning re-election, he was censured in the House, a moment of public humiliation for the once powerful chairman of the Ways and Means Committee.
The alleged violations against Rangel included: using House stationery to solicit money for a New York college center named after him; failing to disclose at least $600,000 in assets and income in a series of inaccurate reports to Congress; using a rent-subsidized, residential-use apartment for a campaign office; and failing to report and pay taxes on rental income from a beach villa in the Dominican Republic.
Rangel was contrite before the ethics vote, acknowledging that he had "made serious mistakes" that put his colleagues in an "awkward" position.
But afterward, he was the same defiant scrapper who had railed against the charges as a witch hunt, calling the vote "very, very, very political."
"History would show that a different standard has been used in this case where I did not curse out the speaker, I did not try to have sex with minors," he said, referring to past censure cases.
An outspoken liberal, Rangel used his position on the Ways and Means Committee to expand the Children's Health Insurance Program and to steer through the House the 2009 approximately $800 billion economic stimulus package. He was a key sponsor of legislation enacting the Earned Income Tax Credit for low-income people and has worked to minimize the impact of the Alternative Minimum Tax on middle-income earners.
He supports the 2010 health care reform bill, applauding the Supreme Court's decision to uphold it in June 2012 and pledging to continue to defend the legislation.
The Harlem lawmaker has rarely backed down from a fight since he first entered the House in 1970 after unseating longtime Rep. Adam Clayton Powell II. He defeated Powell's son, state Assemblyman Adam Clayton Powell IV, in 1994 and again in the 2010 Democratic primary.
Source: Associated Press