Charles 'Charlie' A. Wilson, Jr.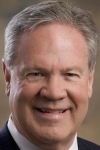 Birthdate: Jan. 18, 1943
Birth Place: Dillonvale, OH, United States
Residence: St. Clairsville, OH
Religion: Roman Catholic
Gender: Male

Candidacy
Education
Charlie Wilson was born in Dillonvale, Ohio. He resides in St. Clairsville. He graduated from the Cincinnati College of Mortuary Science in 1967, and received a bachelor's degree from Ohio University.
Wilson owns a furniture store in Bridgeport and a funeral services business with various locations in eastern Ohio.
Wilson was elected to the Ohio House of Representatives in 1996, serving there until his 2004 election to the Ohio Senate.
In 2006, Wilson was elected in a write-in campaign to fill the 6th Congressional District seat vacated by Ohio Gov. Ted Strickland. In 2010, he lost to Republican challenger Bill Johnson, who he will again face in 2012.
Wilson is divorced and has four sons.
Profile
Charlie Wilson is running in 2012 to replace incumbent Republican Rep. Bill Johnson, the man who unseated him two years earlier in the 6th Congressional District race in eastern Ohio.
The Democratic Congressional Campaign Committee pledged to put extra resources toward Wilson's 2012 campaign, listing the race as one of its best chances to help take back control of Congress.
Wilson wants to work to help protect working families and small businesses and promote job and manufacturing growth. He also favors eliminating tax loopholes that he says encourage large corporations to ship jobs overseas.
On his campaign website, Wilson asked voters to join him in working to "fix what is broken." He said it was time to "restore civility, restart our economy, and provide for our families."
Wilson supports expanding research on burning coal more cleanly and investing tax money in projects that boost public safety and economic development.
Wilson joined Congress in 2006 after winning a write-in campaign to fill the congressional seat vacated by Gov. Ted Strickland. Wilson had previously served six years in the Ohio House of Representatives, followed by two years in the Ohio Senate.
While in Congress, Wilson served on the House Committee on Financial Services and on the House Committee on Science, Space and Technology.
Wilson sponsored the Social Security Fairness for the Terminally Ill Act of 2009, which would have amended Title II of the Social Security Act to eliminate the five-month waiting period in the disability insurance program. The bill did not pass.
He introduced and sponsored the Rural Career and Technical Education Expansion Act of 2009, which was intended to provide loan forgiveness to teachers who taught integrated career and technical coursework at rural secondary schools. That bill also failed to pass, as did the Wilson-sponsored Check the Debt Act of 2010. It would have amended the Internal Revenue Code to allow individual taxpayers to designate $3 or more of their tax liability or $6 for married couples filing a joint tax return to reduce the public debt.
Source: Associated Press