Charles 'Charlie' Foster Bass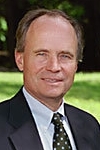 Birthdate: Jan. 8, 1962
Birth Place: Boston, MA, United States
Residence: Peterborough, NH
Religion: Episcopalian
First Elected: 2010
Gender: Male

Candidacy
Education
Charlie Bass was born in Boston and lives in Peterborough, N.H. He received a bachelor's degree from Dartmouth College.
In 1980, Bass made an unsuccessful bid for the 2nd Congressional District seat, which his father, Perkins Bass, represented from 1955 to 1963. He won election to the New Hampshire House in 1982 and served 10 years in the state House and Senate before being defeated in 1992.
He was elected to the U.S. House two years later, and served six terms before losing to Democrat Paul Hodes in 2006.
After that defeat, he worked as a consultant in the alternative energy field and served as president of the Republican Main Street Partnership, a nonprofit advocacy group.
He was elected to the U.S. House again in 2010.
Bass and his wife, Lisa, have two children.
Profile
Charlie Bass insists his 2012 rematch with Democrat Ann McLane Kuster is more than a simple replay of 2010, when he narrowly defeated the Hopkinton lawyer to reclaim the seat he previously held for six terms. The race is considered to be one of the most competitive in the country.
Bass, who made a comeback in 2010 after being ousted by Democrat Paul Hodes in 2006, argues that in the last two years, President Barack Obama's economic agenda has left the nation teetering on the edge of a cliff and that only bipartisan solutions will bring it back from the brink. Attempting to link his opponent to the Obama administration, he casts Kuster as New Hampshire's biggest and most hyper-partisan supporter while emphasizing his own independence and willingness to reach across the aisle.
In March 2012, Bass was one of eight lawmakers _ four from each party _ who proposed a budget built around recommendations of the president's deficit reduction commission as proof of his commitment to bipartisan solutions. It got just 37 votes, but Bass said he was proud of the effort and predicts Congress will come around to the idea in the next few years.
Bass also split from his party on legislation to protect women from domestic violence. In May 2012, Bass voted against the House version of a bill to reauthorize the 1994 Violence Against Women Act, saying he had serious concerns that it would not adequately protect all victims.
Bass voted against a proposal to block Planned Parenthood from receiving any federal funds. But he also supports repealing the 2010 health care reform law backed by Obama, including the requirement that religious-affiliated groups must provide coverage for birth control as part of their health insurance package. He has backed 2012 GOP vice presidential nominee Paul Ryan's conservative budget plan.
In April 2012, the New Hampshire attorney general sued Bass's 2010 campaign committee, accusing it of violating the state's push polling law. Push polling, the practice of asking voters questions intended to influence their decisions is legal in New Hampshire as long as the candidate behind the poll is identified. In September 2010, Bass's campaign hired an outside group to make 400 calls to New Hampshire residents about Kuster. According to the lawsuit, the Bass Victory Committee asked the Tarrance Group polling firm to remove Bass's name from the disclaimer included in the push poll's script and replace it with the National Republican Congressional Committee, which was paying for half of the poll. The state argues that was a deliberate attempt to avoid the law's requirements and is seeking penalties of up to $1,000 per call.
New Hampshire's 2nd Congressional District, which covers the western half of the state, tends to be less conservative than the 1st District, and Bass beat Kuster by fewer than 4,000 votes in 2010. With Bass facing only token opposition in his primary and Kuster unopposed, the two have been campaigning against each other for months. Heading into the general election, Bass lagged behind Kuster in both fundraising and cash on hand.
Source: Associated Press