Charles 'Charlie' Wieder Dent
Charles 'Charlie' Wieder Dent
House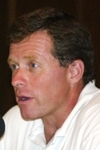 Birthdate: May 24, 1960
Birth Place: Allentown, PA, United States
Residence: Allentown, PA
Religion: Presbyterian
First Elected: 2004
Gender: Male

Candidacy
Party: Republican
State: Pennsylvania
Office: House
District: District 15

Education
Undergraduate: Pennsylvania State University
Degree: BS

Graduate: Lehigh University
Degree: MPA

Charlie Dent was born in Allentown, Pa., where he still resides. He earned a bachelor's degree in foreign service and international politics from Pennsylvania State University in 1982 and a master's degree in public administration from Lehigh University in 1993.
Dent worked as a development officer at Lehigh University from 1986 to 1990, when he won election to the state House of Representatives. He served four terms before his election to the state Senate in 1998.
He won a second four-year term in the state Senate in 2002 and was elected to Congress in 2004.
Dent and his wife, Pamela, have three children.
Profile
Charlie Dent personifies his Pennsylvania Dutch roots: fair-skinned, soft-spoken and stubborn when his ire is raised.
He's survived in the Democratic-leaning 15th Congressional District by taking a moderate approach _ conservative on foreign policy, taxes and spending and more liberal on social issues.
In 2012, Dent faces opposition from Democratic nominee Rick Daugherty, whose only previous run for electoral office was an unsuccessful 1993 bid for a seat on Allentown City Council. Daugherty is chairman of the Lehigh County Democratic Committee and director of the Lehigh County Senior Center.
In December 2011, the House passed legislation introduced by Dent that bans synthetic drugs nicknamed "bath salts" and other compounds that mimic marijuana, cocaine and methamphetamines. These substances would be added to the highly restrictive Schedule I of the Controlled Substances Act.
Dent, who serves on the Appropriations Committee, voted against the government bailouts of Wall Street and the automotive industry in 2008 and 2009. He opposed the approximately $800 billion economic stimulus package in 2009 and the 2010 health care reform bill, denouncing the latter as "a new trillion dollar entitlement program" that will result in higher taxes and stunted economic growth. Dent preferred smaller health care reforms, including limits on medical liability.
Dent also has been outspoken on national security issues. He opposed plans by President Barack Obama's administration to try foreign terrorists in U.S. civilian court, arguing instead for military tribunals.
Dent called on the Obama administration in the spring of 2010 to revoke the U.S. citizenship of radical cleric Anwar al-Awlaki, who was believed to be the inspiration for recent attacks including the 2009 Fort Hood shooting, the Times Square bombing attempt in May 2010 and the failed Christmas Day 2009 airline bombing. Al-Awlaki was killed by a U.S. drone strike in September 2011.
Dent supports abortion rights and applauded Obama's order lifting restrictions on federal funding of embryonic stem cell research in early 2009.
He has been involved in efforts to shape national energy policy, sponsoring legislation to foster development of commercial hydrogen fueling stations. He is also a founding member of the House Hydrogen and Fuel Cell Caucus, which seeks to decrease U.S. reliance on foreign oil.
Source: Associated Press