Charles Jeremy 'Jerry' Lewis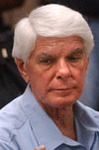 Birthdate: Oct. 21, 1934
Birth Place: Seattle, WA, United States
Residence: Redlands, CA
Religion: Presbyterian
Gender: Male

Candidacy
Education
Jerry Lewis was born in Seattle and now lives in Redlands, Calif. He earned a bachelor's in government in 1956 from the University of California-Los Angeles.
Lewis owned a life insurance company for 30 years and served on the San Bernardino School Board from 1964 to 1968.
He was elected to five terms in the California Assembly, serving from 1968 to 1978. He wrote legislation establishing the South Coast Air Quality Management District in Southern California and wrote the Child Development Act of 1972. He also sponsored legislation placing the Newsman's Shield Law in the state constitution.
Lewis was elected to the U.S. House in 1978. In January 2012, he announced that he would not seek re-election.
Lewis has four children from a previous marriage. He has three stepchildren with his wife, Arlene.
Profile
Jerry Lewis is the senior ranking Republican member of the Appropriations Committee and has worked to reign in spending, pushing back against Democratic plans in 2010.
He strongly opposed the 2010 health care reform bill, the 2009 economic stimulus package, the auto-industry bailout and the omnibus appropriations bill. He believes all of these measures have led to the country's $1.3 trillion budget deficit.
Lewis voted in January 2010 against the Jobs for Main Street Act, which sought to add hundreds of thousands of new jobs to the government payroll.
Two years later, he announced he would not seek re-election.
"After months of consultation with loved ones and family, my wife Arlene and I have decided to retire from public life," Lewis said in a January 2012 press release.
Lewis voted in July 2009 against a measure financing President Barack Obama's troop surge in Afghanistan. He was angered that Democrats were using the must-pass legislation to try to advance unrelated spending.
He criticized the Defense Department in March 2009 for not making the drug violence in Mexico as big a priority as Afghanistan or coordinating U.S. resources to confront it. He praised the Homeland Security Department for deploying unmanned aerial vehicles to track human activity along the U.S.-Mexico border, but he criticized the Pentagon for not providing helicopters to help patrol it.
Lewis was chairman of the Appropriations Committee from January 2005 to January 2007, and he proved expert in securing money for his inland California district _ from highway improvements to a cancer treatment center. But he also has been under intense scrutiny for his ties to lobbyists.
The Justice Department in 2006 began scrutinizing a land deal that made almost 41 acres in Lewis' Redlands neighborhood off-limits to developers.
Federal investigators have been looking into ties between Lewis and lobbyist Bill Lowery, a former congressman whose clients included towns and businesses in Lewis' district that were generous campaign donors. Lewis approved valuable earmarks for a number of Lowery's clients and has denied any wrongdoing.
Lewis opposes most public funding of abortions but he encourages family planning efforts, which has offended some conservatives. He believes gun-control efforts should center on stiff prison terms for repeat criminals who use firearms, but he is open to considering trigger locks and other child-safety measures for law-abiding gun owners.
He favors allowing workers, particularly younger workers, to direct the investment of some of their Social Security money, but wants to safeguard the bulk of the Social Security fund for those who are near retirement.
Source: Associated Press