Charles Michael 'Mike' Thompson
Charles Michael 'Mike' Thompson
House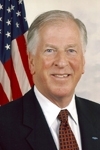 Birthdate: Jan. 24, 1951
Birth Place: St. Helena, CA, United States
Residence: St. Helena, CA
Religion: Roman Catholic
First Elected: 1998
Gender: Male

Candidacy
Party: Democratic
State: California
Office: House
District: District 5

Education
Undergraduate: California State University - Chico
Degree: BA

Graduate: California State University - Chico
Degree: MPA

Mike Thompson was born and raised in St. Helena, Calif., where he still lives and owns a small vineyard. He earned a bachelor's and master's degrees from California State University-Chico.
Thompson was a one-time supervisor for the Beringer Vineyards. He is a Vietnam veteran and Purple Heart recipient. He served as an instructor at the Army Airborne School.
Thompson was chief of staff for California Assemblyman Lou Papan from 1984 to 1987 and for Assemblywoman Jackie Speier from 1987 to 1990.
He was elected to the state Senate in 1990, where he served until his election to the U.S. House in 1998.
Thompson and his wife, Janet, have two sons.
Profile
Mike Thompson represents the largely rural, coastal 1st District in California. In 2012, following dramatic redistricting in California after the 2010 census, Thompson is running for the 5th District seat. He has been an advocate in Congress for alternative energy, land conservation and his state's wine industry.
In March 2012, he joined with U.S. Rep. Chris Gibson of New York, to introduce legislation that would provide tax incentives for investing in energy storage systems. It would give tax credits to those who invest in systems that save excess energy for use during periods of peak demand for electricity.
He opposed a Republican-sponsored bill approved by the House in February 2012 that would block the restoration of the San Joaquin River and give California farmers and urban residents more water. He said the measure would harm businesses as well as the environment while usurping California's control of its water.
After he was elected president, Barack Obama considered Thompson for Interior secretary because of his environmental record. Obama ultimately chose then-Sen. Ken Salazar of Colorado.
Thompson easy won the June 2012 primary with 72 percent of the vote. He faces Republican Randy Loftin of Napa in the November 2012 general election.
Thompson, who earned a Purple Heart while serving in the Vietnam War, received and dispensed harsh criticism regarding the war in Iraq. He visited Iraq with two congressional colleagues in early 2002 to ask Iraq to comply with U.N. weapons inspectors. He defended the trip, but the travel effectively stopped his quick rise within the party.
Many Democrats, especially those who supported the invasion of Iraq, viewed Thompson as a liability during the 2002 elections. Thompson and Reps. David Bonior and Jim McDermott were lampooned as the "Baghdad Boys."
Thompson's policy positions help maintain his popularity within his district. He opposes offshore oil drilling, supports abortion rights and decries the death penalty.
He organized opposition in 2008 to plans by George W. Bush's administration to take $70 million intended for aid for the salmon fishing industry and use it to help pay for the 2010 Census.
Thompson, who owns a vineyard, was among the opponents of 2010 legislation backed by beer wholesalers that would eliminate the ability of small wineries to ship wine directly to their customers.
Thompson supported legislation passed by the House in September 2007 that would require airlines to provide passengers with food, water and other basic amenities when they're stranded on the tarmac for long periods of time. The legislation also would require airlines to have plans that allow passengers to deplane when they face long delays before they take off.
Thompson joined with Rep. Denny Rehberg in 2008 to introduce legislation guaranteeing medical coverage and benefits to veterans who were secretly exposed to Cold War-era chemical and germ warfare agents.
Source: Associated Press