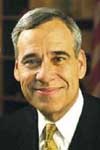 Birthdate: May 5, 1945
Birth Place: San Antonio, TX, United States
Residence: San Antonio, TX
Religion: Catholic
Gender: Male

Candidacy
Education
Charlie Gonzalez was born in San Antonio, where he still lives. He earned a bachelor's degree from the University of Texas in 1969 and a law degree from St. Mary's University School of Law in 1972.
Gonzalez served as a county judge, a municipal judge, an elementary school teacher and a member of the Texas Air National Guard.
Gonzalez was a state district judge when he announced in November 1997 that he was stepping down to seek the Democratic nomination for the 20th District U.S. House seat. His father, U.S. Rep. Henry B. Gonzalez, had held the seat since 1961. The elder Gonzalez stepped down for health reasons; the younger Gonzalez won the race to replace him.
Gonzalez is divorced and has a child.
Profile
Charlie Gonzalez has been an advocate for Hispanics and immigrants during his six terms in Congress. He has regularly supported efforts to reform the nation's immigration system, including backing a bill introduced in late 2009 that would give illegal immigrants a path toward legal residency.
He announced in 2012 that he would not seek re-election.
Gonzalez supported the 2010 health care reform bill, saying he was proud to have voted for the bill because it will give more Americans access to health care. He has acknowledged that the vote could put Democrats at risk in seeking re-election.
He has been a vocal advocate for military spending in San Antonio. The city is slated to add thousands of military jobs as medical training is consolidated from installations elsewhere. Gonzalez, whose district includes Lackland Air Force Base, has pushed to ensure the projects are funded on time.
Gonzalez was an important voice for incumbent Democrats during 2001 redistricting efforts in Texas. He testified against a plan to create a new Hispanic seat, as drawn by some Hispanic groups, because he said the new district would have siphoned away Hispanics from other districts and placed incumbent Hispanics in jeopardy.
That occurred anyway when Republicans redrew Texas' congressional districts in 2003. Some Democratic incumbents saw their district's Hispanic population rates drop, making their re-election less of a sure thing.
In 2004, then-House Minority Leader Nancy Pelosi appointed Gonzalez to the Energy and Commerce Committee, a key panel that he still serves on. He had sought a spot on the committee in 2002, but Pelosi instead appointed Rep. Hilda Solis. The snub was seen by some as a response to Gonzalez's support of then-Rep. Martin Frost for the minority leader job.
His 2002 divorce from Becky Whetstone became the stuff of gossip pages after she announced she was launching a campaign to get on the Texas ballot through a petition drive. She ran as an independent in 2004, insisting that she wasn't running out of bitterness. Still, she castigated Gonzalez on her website over the marriage and divorce.
Source: Associated Press