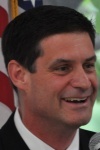 Birthdate: Jan. 29, 1959
Birth Place: Charleston, WV, United States
Residence: Chisago City, MN
Religion: Christian
First Elected: 2010
Gender: Male

Candidacy
Education
Chip Cravaack was born in Charleston, W.Va., and grew up in a suburb of Cincinnati. He now lives in North Branch, Minn. He earned a bachelor's from the U.S. Naval Academy and went on to a career as a Navy pilot. He earned his master's in education from the University of West Florida.
Cravaack flew as a pilot for Northwest Airlines until 2007, retiring because of medical issues with sleep apnea. After his retirement, he worked as a volunteer with the parent-teacher association at his children's school before becoming involved in politics.
Cravaack was elected to Congress in 2010, unseating 18-term Democratic Rep. Jim Oberstar in northeastern Minnesota's 8th District.
He and his wife, Traci, have two sons. Traci Cravaack and the sons moved to Windham, N.H., in 2011 to be close to her position as an executive with the pharmaceutical company Novo Nordisk.
Profile
Chip Cravaack astonished Minnesota's political world in 2010 when he narrowly defeated Democratic Rep. Jim Oberstar, a 36-year House veteran whose influence as Transportation Committee chairman was seen in the infrastructure all over northeastern Minnesota.
Cravaack defeated the longest-serving congressman in state history and became the first Republican to represent northeastern Minnesota since 1947.
Now Cravaack is the incumbent, with Democrats and their independent-spending allies eager to make him a one-termer. Outside groups spent more than $500,000 in the 8th District, including more than $200,000 attacking Cravaack, before former Congressman Rick Nolan won the three-way August 2012 Democratic primary.
As he seeks a second term, Cravaack is positioning himself as a conservative with an independent streak.
He has said he was drawn into politics when he went to one of Oberstar's district offices to request a town hall meeting on the federal health care overhaul and didn't get satisfaction. Instead, he ran against Oberstar, portraying him as out of touch after 18 terms.
Cravaack voted to repeal the 2010 health care reform law. He voted for Republican vice presidential candidate Paul Ryan's plan to overhaul Medicare by shifting future retirees into private plans. He joined conservative Republicans, including tea party-aligned Rep. Michele Bachmann, in opposing an increase in the government's borrowing limit in 2011.
He has also focused on labor and mining issues that play big in his district, which includes the Iron Range.
Cravaack is pushing to get two proposed precious metals mining operations started, taking his first meeting after the 2010 election with a top executive of PolyMet Mining Corp., which aims to mine copper and nickel near Hoyt Lakes. Cravaack convenes a group of government and tribal officials quarterly to discuss the project's progress. The projects raise environmental concerns that he says current federal regulations would address.
The former pilot often talks about his days as a member of the Air Line Pilots Association, including striking and being laid off.
He sided with labor instead of his party's leaders with votes against banning prevailing wage agreements and eliminating the National Labor Relations Board, an arbiter of labor-management disputes. He also sponsored a transportation bill amendment to require domestic steel in federal projects as a way to increase demand for Iron Range taconite.
Cravaack has had to defend his ties to northeastern Minnesota after his family moved to New Hampshire in 2011 to be close to his wife's job. In an Associated Press interview, the former Navy pilot compared frequent travel between his North Branch, Minn., home, Washington and New Hampshire to "being in the military again."
Cravaack has pledged to serve no more than eight years.
Source: Associated Press