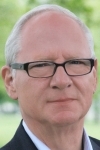 Birthdate: Sept. 3, 1958
Birth Place: Pullman, WA, United States
Residence: Reynoldsburg, OH
Religion: Catholic
Gender: Male

Candidacy
Education
Chris Long was born in Pullman, Wash., and moved to Ohio as a youngster when his father went to work for Western Electric. He currently resides in Reynoldsburg.
His mother died when he was 14.
After graduating from high school he enlisted in the U.S. Air Force. He served for nearly five years and was stationed in Italy for much of that time, during which he took business-related and other courses through the University of Chicago.
He has held various jobs in transportation, manufacturing, warehousing, sales and operations, most recently as an assistant vice president of finance for iQor, a provider of business process outsourcing services.
Long retired and serves as an at-large councilman in Reynoldsburg.
He and his wife, Sandy, have six children between them.
Profile
Chris Long is running in the newly redrawn 3rd Congressional District, where he is a longtime resident and an at-large councilman in the Columbus suburb of Reynoldsburg.
He said he viewed the congressional race as an opportunity to expand his involvement in his community and expand it to surrounding areas.
"All too often, our elected officials focus on the community while they're running for office, and then once they get to Washington, D.C., their focus changes," he said in July 2012. "My commitment to people is that I will be community-minded and community-focused while in D.C."
Long's top priority is job creation and the economy. He wants to reduce the regulation of businesses, especially small businesses, and remove what he describes as unnecessary restrictions that hinder growth.
He said he would support a reduction in the corporate income tax and the simplification of the tax system.
He also believes putting more people to work could reduce the financial burden of entitlement programs such as Social Security and Medicare. He said those programs must be changed to ensure they continue to serve their target groups, but he wants to protect benefits for older people who already receive them and make sure that aid goes to people who actually need it. He also supports pursuing "a more reasonable retirement age" and creating a better savings plan for younger workers to supplement Social Security.
Long said he would vote in favor of a constitutional amendment requiring a balanced federal budget. He also advocates shrinking the federal government.
If elected, he vows to vote in favor of repealing the 2010 health care reform bill.
Long supports expansion of domestic drilling and the use of clean coal and natural gas to reduce dependence on foreign oil sources.
He describes himself as anti-abortion and a defender of the Second Amendment. He also said he believes marriage applies only to the union of a man and a woman.
He is a member of the Franklin County Republican Central Committee.
Source: Associated Press