Christopher 'Chris' Patrick Gibson
Christopher 'Chris' Patrick Gibson
House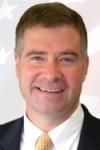 Birthdate: May 13, 1964
Birth Place: Rockville Centre, NY, United States
Residence: Kinderhook, NY
Religion: Catholic
First Elected: 2010
Gender: Male

Candidacy
Party: Republican
State: New York
Office: House
District: District 19

Education
Undergraduate: Siena College
Degree: BA

Graduate: Cornell University
Degree: MPA

Graduate: Cornell University
Degree: PhD

Chris Gibson was born in Rockville Centre, N.Y., and grew up in Kinderhook, where he now resides. He earned a bachelor's degree from Siena College where he received an ROTC commission. He also attended Cornell University where he earned a master's and a doctorate in government.
Gibson's Army career included four combat tours in Iraq. He reached the rank of colonel and has military decorations.
He commanded the 82nd Airborne Division's 2nd Brigade Combat Team in the opening month of relief operations after the January 2010 earthquake in Haiti.
Gibson taught American politics at the U.S. Military Academy, served as a congressional fellow to California Republican Rep. Jerry Lewis, and completed a Hoover National Security Affairs Fellowship at Stanford University.
He was elected to Congress in 2010.
He and his wife, Mary Jo, have three children.
Profile
During his first term in Congress, Chris Gibson tended to such upstate New York priorities as family farms (working on a bill supporting young farmers) and rural broadband (pushing a loan program and sponsoring symposiums). He also worked on veterans' issues, including improved transition services for returning National Guard members.
Gibson voted in 2012 to repeal the 2010 health care reform bill signed into law by President Barack Obama.
He says his priorities are growing the economy, restoring fiscal responsibility and protecting freedoms.
Gibson favors tax rate cuts, property tax caps and streamlined business regulations. He says lower health care costs should come from private sector competition, tort reform, insurance cooperatives and incentives to make medical service consumers cost-conscious.
He calls for balancing the federal budget, describing debt service "an unacceptable opportunity cost" and deficit spending as a tax on future generations.
Gibson opposes any legislation restricting the right of law-abiding citizens to keep and bear arms for protection or for sport.
He calls Social Security a commitment to America's seniors that must be upheld and says the program should not be privatized. He says it is "unacceptable" that the Medicare program received $500 billion in cuts to finance the Democrats' health care agenda.
Gibson wrote a 2008 book on national security decision-making called "Securing the State."
He has been returning his military pension while serving in Congress.
Source: Associated Press