Colleen Hanabusa
House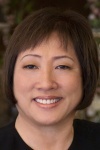 Birthdate: May 4, 1951
Birth Place: Honolulu, HI, United States
Residence: Honolulu, HI
Religion: Buddhist
First Elected: 2010
Gender: Female

Candidacy
Party: Democratic
State: Hawaii
Office: House
District: District 1

Education
Undergraduate: University of Hawaii
Degree: BA

Graduate: University of Hawaii
Degree: MA

Graduate: University of Hawaii
Degree: JD

Colleen Hanabusa was born in Honolulu. Her parents ran a well-known gas station in Waianae, a rural town on the west side of Oahu. She is a fourth-generation American of Japanese ancestry, known as a yonsei.
Her maternal great-grandparents emigrated from Japan to Hawaii and worked on a sugar plantation. Her grandparents were born on and worked for the Waianae Plantation. Her paternal great-grandparents were entrepreneurs who made and sold tofu to the plantation.
Both Hanabusa's grandfathers were interned during World War II. Because her parents were busy running the family business she was raised by her maternal grandmother.
Hanabusa was elected to the Hawaii Senate in 1998. She was elected to the U.S. House in 2010.
She and her husband, former State Sheriff John Souza III, live in Honolulu.
Profile
Colleen Hanabusa was elected to Hawaii's 1st District U.S. House seat in November 2010 after losing an all-mail special election six months earlier to Republican Charles Djou. Djou and Hanabusa, a Democrat, easily won their primaries in August 2012 to set up a rematch in November for the district seat that serves urban Honolulu.
Through her first 20 months in office, Hanabusa introduced five bills. One _ a bill to rename a post office in Honolulu _ became law. According to Congressional watchdog group OpenCongress, Hanabusa voted with her party more than 95 percent of the time, more often than the Democratic average of just more than 93 percent.
In May 2012, Hanabusa introduced a bill to allow Native Hawaiian organizations to gain certification as historically underutilized business zones as part of a program to promote economic development and growth. The bill was referred to committee and cosponsored by Hawaii's other congresswoman, U.S. Rep. Mazie Hirono.
Before winning the House seat, Hanabusa spent 20 years in Hawaii's state Senate, working her way up to Senate president in late 2006. She also chaired the Judiciary and Hawaiian Affairs Committee and served as majority leader.
Source: Associated Press