Collin Clark Peterson
House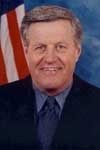 Birthdate: June 29, 1944
Birth Place: Fargo, ND, United States
Residence: Detroit Lakes, MN
Religion: Lutheran
First Elected: 1990
Gender: Male

Candidacy
Party: Democratic
State: Minnesota
Office: House
District: District 7

Education
Undergraduate: Minnesota State University
Degree: BA

Collin Peterson was born in Fargo, N.D, and now lives in Detroit Lakes, Minn. He earned a bachelor's degree in business administration and accounting from Moorhead State University in 1966.
Peterson served in the Minnesota Army National Guard from 1963 to 1969. He served in the Minnesota Senate from 1977 to 1986 and worked as an accountant.
He was elected to the U.S. House in 1990.
Peterson is divorced and has three children.
Profile
Collin Peterson had hoped he'd still be chairman of the House Agriculture Committee after he won re-election in 2010. Instead, he found himself the ranking minority member after the GOP takeover of the House in 2010.
Nevertheless, Peterson was still in a strong position to shape the 2012 Farm Bill, his main focus during the 112th Congress. He crafted the dairy policy overhaul that is in both the House and Senate versions. His critics in farm policy debates over the years have depicted him as an apologist for Big Agriculture and traditional subsidy programs. But Peterson says it's not government's place to say whether farms should be big or small, it's ensuring an affordable and abundant food supply.
Peterson has long had a maverick streak. He's a founding member of the Blue Dog Coalition of fiscally conservative Democrats. He is conservative on social issues, opposing abortion rights and gun control.
He opposed the 2009 approximately $800 billion economic stimulus plan and the 2010 health care reform bill, both backed President Barack Obama. His position put him at odds with his Democratic caucus, but he also voted against GOP attempts to repeal the health plan. During George W. Bush's administration, he voted for the president's signature tax cuts and to authorize force in Iraq.
Peterson represents a sprawling district that reaches from the Canadian border in the north to just shy of Iowa in the south. The district didn't change much when it was redrawn in 2012. He's a private pilot who often flies his own single-engine plane to get around his territory.
Peterson is an avid hunter who brings to Capitol Hill an expertise in wildlife, hunting and conservation issues.
He is a founder of the Performer's Caucus, made up of members who have performed as professional musicians, and he has played with Willie Nelson at Farm Aid concerts.
His early elections were tough _ he won his first two by 1 percentage point and 2 percentage points, respectively. But from 1996 to 2008 his vote totals ranged from high 60 percent to low 70 percent. He didn't do quite as well in the big GOP year of 2010, but still notched a 55 percent to 38 percent victory over Republican Lee Byberg, who is challenging Peterson again in 2012.
Source: Associated Press