Cynthia Lummis
House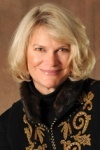 Birthdate: Sept. 10, 1954
Birth Place: Cheyenne, WY, United States
Residence: Cheyenne, WY
Religion: Lutheran
First Elected: 2008
Gender: Female

Candidacy
Party: Republican
State: Wyoming
Office: House
District: At Large

Education
Undergraduate: University of Wyoming
Degree: BS

Graduate: University of Wyoming
Degree: JD

Cynthia Lummis is a native of Cheyenne, Wyo. She attended the University of Wyoming where she earned two bachelor's degrees, one in animal science and the other in biology, and a law degree.
Lummis was elected to the Wyoming Legislature in 1979 and served 14 years in both the House and the Senate. She served two terms as Wyoming state treasurer, from 1999 to 2007.
Lummis was elected to the U.S. House in 2008 and re-elected in 2010.
She and her husband, Al, have a daughter.
Profile
Over her two terms in the U.S. House, Cynthia Lummis has staked out a reputation for opposing federal deficit spending and what she considers excessive federal regulation of private business.
"Here in Wyoming we need to take the message of fiscal responsibility back to Washington," Lummis said in announcing her bid for a third term for the state's lone seat in the House. "And we also need to work for the people of Wyoming to make sure that the policies of the federal government are not impairing us from reaching our full potential."
She has supported energy development on nearly 45,000 acres in the Wyoming Range.
She advocates eliminating the nation's debt and deficit without raising taxes, reforming the tax code so that it is fairer and "unleashes America's economy" and reforming social programs so that they will be available to future generations.
She joined the Balanced Budget Amendment Caucus in Congress and voted against a $143 billion payroll tax cut and jobless benefits bill, saying the tax cut wasn't offset by spending cuts.
She also spoke out against Labor Department proposals to limit the participation of youth in farming and ranching activities.
While generally opposed to new government regulations of private industry, Lummis has introduced legislation that would target meat packer practices that she says are unfair to independent ranchers and farmers. Lummis comes from a family with a ranching background, and ranching is a major industry in the state.
Lummis favors repeal of the 2010 health care reform law.
The American Conservative Union has Lummis ranked highly, giving her a 92 percent rating over her career in the House.
She is one of Wyoming's best-known Republicans with a political career spanning nearly three decades.
Lummis first won election to the House in 2008 and was easily re-elected in 2010. She was unopposed in the 2012 primary.
Source: Associated Press