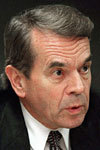 Birthdate: Sept. 16, 1929
Birth Place: Flint, MI, United States
Residence: Flint, MI
Religion: Roman Catholic
Gender: Male

Candidacy
Education
Dale Kildee was born in Flint, Mich., where he continues to reside. He earned a bachelor's degree from Sacred Heart Seminary, a teaching certificate from the University of Detroit and a master's degree from the University of Michigan.
Kildee did graduate work in political science at the University of Peshawar in Pakistan in 1958. He taught Latin in Detroit and Flint high schools.
He served in the Michigan House from 1965 to 1974, and in the state Senate from 1975 to 1977.
He was elected to the U.S. House in 1976. He announced in July 2011 that he would not seek re-election.
Kildee and his wife, Gayle, have three children.
Profile
Dale Kildee announced in July 2011 that he would not run again after 18 terms in Congress. Kildee's nephew, fellow Democrat Dan Kildee, is running for his seat.
Dale Kildee has been a steady supporter of labor unions and automakers, focusing his attention on helping the auto industry that was the backbone of his congressional district for decades.
That work was highlighted by continued support for General Motors and Chrysler as they received federal aid and went through government-led bankruptcy reorganization.
"There's an old saying that what America drives, drives America. It drives the American economy. So this will help not only the auto industry but it will help all those industries that feed into the auto industry," said Kildee, who served as co-chairman of the Congressional Automotive Caucus.
Kildee also was vocal on employment issues key to his district, calling for the extension of unemployment benefits and support for the nation's struggling economy. He voted for the approximately $800 billion stimulus bill backed by President Barack Obama in 2009.
Kildee chaired the Education and Labor Committee's subcommittee on early childhood, elementary and secondary education. He supported an August 2010 measure that provided education grants to save thousands of teaching jobs and extended Medicaid assistance to several states having budget problems.
Kildee supported school accountability measures but said President George W. Bush's administration failed to give schools enough guidance and flexibility to meet new standards in the No Child Left Behind Act.
Kildee was the lead sponsor of the Head Start reauthorization bill that was signed by Bush in December 2007. The five-year renewal of the early childhood education program was aimed at opening the program to more children and ensuring that teachers are better qualified.
Kildee maintained a reputation as an earnest and hard-working lawmaker, missing only a handful of votes since arriving to the chamber in 1977.
He said in 2011 that allegations of decades-old sexual abuse made against him by a 63-year-old second cousin were the result of the man's mental illness and other relatives' attempts to extort money. Kildee said he went to the FBI after the accuser's son contacted him.
Kildee has generally voted with his fellow Democrats, except on the issue of abortion. He is a former divinity student who considered becoming a priest, and he opposes abortion. He voted in 2003 to ban the procedure known by opponents as partial-birth abortion. He voted in 2004 for a measure that would give separate victim's rights to the fetus when a pregnant woman is attacked.
Source: Associated Press