Daniel 'Dan' Benjamin Maffei
Daniel 'Dan' Benjamin Maffei
House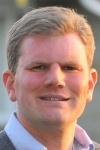 Birthdate: July 4, 1968
Birth Place: Syracuse, NY, United States
Residence: Syracuse, NY
Religion: Catholic
Gender: Male

Candidacy
Party: Democratic
State: New York
Office: House
District: District 24

Education
Undergraduate: Brown University
Degree: BA

Graduate: Columbia University
Degree: MA

Graduate: Harvard University
Degree: MA

Dan Maffei was born and raised in Syracuse, N.Y. He earned a bachelor's degree from Brown University, a master's degree from Columbia University's Graduate School of Journalism and a master's degree from Harvard University's John F. Kennedy School of Government.
A former television reporter, Maffei worked as a congressional staffer for Sen. Bill Bradley and Sen. Daniel Patrick Moynihan. He served as a senior staff member on the House Ways and Means Committee for seven years under U.S. Rep. Charles Rangel.
Maffei was elected to the U.S. House in 2008. He was narrowly defeated in his bid for re-election in 2010.
He teaches at the State University of New York School of Environmental Science and Forestry.
Maffei and his wife, Abby, reside in Syracuse.
Profile
Dan Maffei, who won election to Congress in 2008 with 55 percent of the vote, lost by just 648 votes in 2010 to Republican challenger Anne Marie Buerkle, who was backed by the tea party.
He and Buerkle will again face off in the November 2012 election. Maffei said he decided to run again after watching the 2011 stalemate in Congress over increasing the national debt limit. Buerkle was among 66 Republicans who voted against a compromise to raise the debt limit and cut more than $2.1 trillion in federal spending over 10 years.
In his fight to get his old job back, Maffei criticized Buerkle's back-to-back votes to repeal the 2010 health care reform bill, accusing her of being "only in touch with her right wing allies in D.C., not her constituents at home."
He characterized Buerkle and other Republicans as "obsessed" with repealing the health care bill, to the detriment of other issues, including the economy.
Maffei backed health care reform while in Congress. He also voted in favor of the 2009 approximately $800 billion economic stimulus package.
Maffei outraised Buerkle, $312,431 to $237,785, in 2012's first quarter, in part by attacking Buerkle's support of Rep. Paul Ryan's budget proposal and its potential effect on Medicare.
He promised to oppose any measure that would privatize or weaken Medicare and Social Security.
He called for a temporary moratorium on all new trade agreements so that those in place could be evaluated.
Maffei also favors extending current income tax rates for the middle class.
Source: Associated Press