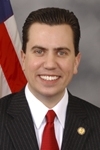 Birthdate: Aug. 2, 1973
Birth Place: Shawnee, OK, United States
Residence: Muskogee, OK
Religion: Methodist
Gender: Male

Candidacy
Education
Dan Boren was born in Shawnee, Okla., raised in Seminole, and now lives in Muskogee. He earned a bachelor's degree in economics from Texas Christian University and a master's in business administration from the University of Oklahoma.
He was elected to the Oklahoma House in 2002 and to Congress in 2004. Prior to his election, he was president and chief executive officer of the Seminole State College Educational Foundation and held staff positions for former U.S. Rep. Wes Watkins.
Boren was elected to the U.S. House in 2004. He announced in the summer of 2011 that he would not see a fifth term in office.
Boren and his wife, Andrea Heupel, have two children.
Profile
Dan Boren sent shock waves through the Oklahoma political scene in the summer of 2011 when he announced that he wouldn't seek a fifth term in Oklahoma's 2nd Congressional District, which stretches across eastern Oklahoma from the Kansas border to the Red River.
The lone Democrat in Oklahoma's congressional delegation, Boren authored legislation overwhelmingly approved by the U.S. House in July 2010 that would transfer 18 acres of land at the Fountainhead Resort in Eufaula to the Muscogee (Creek) Nation.
The tribe bought the Fountainhead Lodge and 48 surrounding acres in 2005, but a survey later found that 18 acres were owned by the U.S. Army Corps of Engineers. The tribe plans to build a casino resort on the property. Boren's bill would require it to pay fair market value for the 18 acres as well as costs associated with placing the land into trust.
Boren is the principal author of legislation signed by President George W. Bush in 2008 that honored World War I Choctaw code talkers and other Indian code talkers with congressional medals.
Boren is the third generation of his family to be elected to public office. His father, David, is a former Oklahoma governor and U.S. senator and current president of the University of Oklahoma. His grandfather, Lyle H. Boren, represented eastern Oklahoma in Congress for 10 years beginning in 1936.
Dan Boren is a self-described conservative Democrat and an active member of the Blue Dog Coalition, a group that bills itself as promoting positions that "bridge the gap between ideological extremes."
Boren voted against the 2010 health care reform bill supported by President Barack Obama and Democratic congressional leaders. He drew nominal opposition in his re-election bid in 2008, a year when he stood apart from his fellow delegates to the Democratic National Convention by refusing to endorse Obama for the nomination. At the time, Boren said Obama's voting record was too liberal for his district.
The largely rural district is popular with hunters, a factor in Boren's strong support for Second Amendment gun ownership rights. He is a member of the National Rifle Association's board of directors.
Boren is the co-chairman of the Second Amendment Task Force in the U.S. House and was critical of comments made by Attorney General Eric Holder in February 2009 about the possibility of the Obama administration seeking to reinstate a ban on sales of assault weapons.
Boren held a press conference in April 2009 with billionaire oil tycoon and Oklahoma native T. Boone Pickens to promote Boren's bill to encourage the use of compressed natural gas as a vehicle fuel.
The bill called for an 18-year extension of three tax incentives that focus on natural gas as a transportation fuel, the purchase of natural gas-fueled vehicles and the installation of commercial and residential natural gas refueling pumps.
Source: Associated Press