Daniel Lipinski
House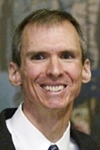 Birthdate: July 15, 1966
Birth Place: Chicago, IL, United States
Residence: Western Springs, IL
Religion: Catholic
First Elected: 2004
Gender: Male

Candidacy
Party: Democratic
State: Illinois
Office: House
District: District 3

Education
Undergraduate: Northwestern University
Degree: BS

Graduate: Stanford University
Degree: MA

Graduate: Duke University
Degree: PhD

Daniel Lipinski was born in Chicago, and now resides in the suburb of Western Springs. He earned a bachelor's at Northwestern University, a master's at Stanford University and a doctorate degree at Duke University.
Lipinski was a political science professor at Notre Dame and the University of Tennessee. Before being elected to Congress, he worked on Capitol Hill as an aide for several congressmen.
He was elected to the U.S. House in 2004.
Lipinski and his wife, Judy, have no children.
Profile
Daniel Lipinski is carrying on the family business.
In 2004, his father, U.S. Rep. William Lipinski, announced he was retiring after 11 terms and urged Democratic Party leaders to slate his son as his replacement. They did, and the younger Lipinski went on to beat an unknown Republican and take the mantle from his father.
Like his father, Lipinski is a conservative on social issues _ opposed to abortion and gay rights measures _ but liberal on bread-and-butter economic issues. Historically, those stances have been in line with his district, which includes the Reagan Democrats of ethnic southwest Chicago and its suburbs. He was one of the few Democrats to vote against Nancy Pelosi as the party's House leader in 2011.
With the economy faltering, he voted twice for approximately $800 billion in federal stimulus packages in early 2009. He has also focused on environmental issues. He successfully worked with a Republican co-sponsor to require energy-saving light bulbs in some federal buildings.
Lipinski's duties include serving on the Transportation and Infrastructure Committee, a post held for decades by his father. Early in 2012, he joined with two Republicans to oppose federal transportation legislation that would cut funds for mass transit agencies.
Among Lipinski's priorities are the rail transportation needs of the Chicago area, which is a hub for rail traffic that crisscrosses the Midwest. In early 2009, he backed Canadian National Railway's purchase of lines through the Chicago area and helped broker an agreement that would end opposition to the company's plans in exchange for establishing "quiet zones" in certain areas.
Lipinski was the only Democratic House member from Illinois to vote against health care reform in March 2010, saying that he couldn't support such "a deeply flawed bill." But he has declined to support Republican calls to repeal the measure.
Source: Associated Press