Danny K. Davis
House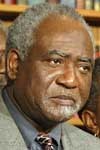 Birthdate: Sept. 6, 1941
Birth Place: Parkdale, AR, United States
Residence: Chicago, IL
Religion: Baptist
First Elected: 1996
Gender: Male

Candidacy
Party: Democratic
State: Illinois
Office: House
District: District 7

Education
Undergraduate: Arkansas AM&N College
Degree: BA

Graduate: Chicago State University
Degree: MA

Graduate: Union Institute
Degree: PhD

Danny K. Davis was born in Parkdale, Ark., and now resides in Chicago. He graduated from what is now the University of Arkansas-Pine Bluff, before earning a master's at Chicago State University in 1968 and a doctorate at Union Institute in 1977.
In Chicago, he climbed through the political ranks, serving for 11 years on the City Council and then six years on the Cook County Board before being elected to Congress in 1996.
Davis, a deacon at his church, and his wife, Vera, have two sons.
Profile
Active in the Congressional Black Caucus, Danny K. Davis is among the most liberal members of Congress. He represents a largely black district that is a mix of ritzy areas and poor neighborhoods in Chicago and Cook County.
In 2012, he campaigned against the Illinois governor's proposal to close adult transition centers, which are essentially halfway houses for inmates.
Davis seriously considered a run for Chicago mayor in 2010 when Richard Daley announced his retirement after 22 years in office. But Davis dropped out at a hastily called New Year's Eve news conference, saying it necessary to unite behind a single black candidate. He put his support behind former U.S. Sen. Carol Moseley Braun.
A year earlier, Davis contemplated a run at Cook County Board president, the head of the nation's second largest county. For several months he was double-filed in the primary for both board president and his congressional post. Davis eventually dropped out of the board president race and backed Cook County Circuit Court Clerk Dorothy Brown, who lost the Democratic nomination to Chicago Alderman Toni Preckwinkle.
Until former Gov. Rod Blagojevich's arrest in December 2008, Davis was interested in replacing then-Sen. Barack Obama after Obama's presidential victory. Davis said Blagojevich offered him the appointment but he rejected it because of the scandal surrounding the governor. The Senate appointment ended up going to former Attorney General Roland Burris.
Davis is a member of the committees on Homeland Security and Oversight and Government Reform, and he is a ranking member of the Subcommittee on Health Care.
Outside Congress, Davis has worked as an educator, community organizer, health administrator and civil rights activist. He has been friendly toward the Rev. Sun Myung Moon, leader of the Unification Church, and in 2004 Davis took part in a ceremony in which Moon declared himself the messiah and was crowned.
Source: Associated Press