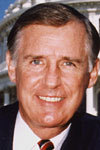 Birthdate: June 21, 1938
Birth Place: Indianapolis, IN, United States
Residence: Indianapolis, IN
Religion: Christian
Gender: Male

Candidacy
Education
Dan Burton was born in Indianapolis and still lives there. He attended Indiana University and Cincinnati Bible Seminary.
He served in the Army from 1956 to 1957 and in the Army Reserve from 1957 to 1962. He worked as a real estate and insurance agent and founded the Dan Burton Insurance Agency in 1968.
Burton served in the Indiana House from 1967 to 1968 and from 1977 to 1980. He served in the Indiana Senate from 1969 to 1970 and from 1981 to 1982.
He was first elected to the U.S. House in 1982 and is the state's longest-serving congressman.
Burton had three children with his late wife, Barbara, who died in 2002. Burton also has one child from an extramarital affair. In 2006, he married Dr. Samia E. Tawil, who had helped care for Barbara Burton years earlier.
Profile
Dan Burton announced in January 2012 that he would not seek a 16th term in Congress, citing an undisclosed family health issue. He wore a Don Quixote lapel pin at the time, saying the character was a role model as he tilted at the occasional windmill during his long career. "All my life I wanted to fight for the impossible dream," he said.
Burton had faced tough battles in the previous two Republican primaries for Indiana's 5th Congressional District, but said they did not contribute to his decision to retire. Had he chosen to run, he would have faced voters in a redrawn district that includes a heavier concentration of the suburbs north of Indianapolis, where he had not fared well in the previous two primaries.
He raised his national profile with his dogged investigations of then-President Bill Clinton in the 1990s, when he was chairman on the House Oversight and Government Reform Committee.
In February 2012, he pushed Attorney General Eric Holder to release to the committee documents on Fast and Furious, the department's flawed gun-smuggling operation.
Also that year, he lamented how Congress had given President Barack Obama "carte blanche" authority to raise the debt limit.
Burton voted against the approximately $800 billion economic stimulus bill in February 2009.
He has sponsored legislation that he says would enhance border security, expand local and federal law enforcement authority and crack down on employers who knowingly hire illegal immigrants.
He found himself in the middle of controversy when he chaired the House Oversight and Government Reform Committee from 1997 to 2002, during which time he zealously led the House investigation into Clinton's campaign finances. Burton's aggressive pursuit of the president made him a favorite target for Democrats and even some Republicans, including then-House Speaker Newt Gingrich, who called his tactics counterproductive.
Burton's reference to Clinton as a "scumbag" prompted an outcry. He admitted to a poor choice of words but didn't back off, saying he didn't believe Clinton was "a man of integrity."
Burton co-sponsored a bill in 2003 to allow the importation of prescription drugs from Canada and 24 other countries. That irked pharmaceutical giant Eli Lilly and Co., which has about 6,200 employees in Burton's district.
He became a lightning rod for importation critics who, among other things, said the legislation would expand access to RU-486, the so-called abortion pill. Burton, a longtime opponent of abortion rights, accused the pharmaceutical industry of trying to maintain high drug prices.
Burton, who has an autistic grandson, has said the government should spend more money to research autism, which he calls an epidemic.
Burton received campaign contributions from lobbyist Jack Abramoff, who pleaded guilty to charges stemming from a corruption investigation involving members of Congress. Burton said in 2006 that he would donate the contributions to charity. He also said he would make a charitable donation of $12,000 _ the amount given to his campaign from American Indian tribes that were clients of Abramoff.
Burton denied in a statement having "participated in any illegal, immoral or unethical dealings with Mr. Abramoff or his tribal clients."
He came under fire in 2007 amid reports that he missed 19 House votes during a trip to California for a charity golf tournament. He said the trip was a mistake and that House votes had typically not been held during that week in recent years.
Burton admitted in September 1998 that he had an extramarital relationship in the early 1980s and fathered a child.
Source: Associated Press