Darrell Edward Issa
House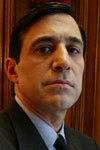 Birthdate: Nov. 1, 1953
Birth Place: Cleveland, OH, United States
Residence: Vista, CA
Religion: Christian
First Elected: 2000
Gender: Male

Candidacy
Party: Republican
State: California
Office: House
District: District 49

Education
Undergraduate: Siena Heights College
Degree: BA

Undergraduate: Kent State University - Stark
Degree: AA

Darrell Issa was born in Cleveland and now resides in Vista, Calif. He enlisted in the Army as a high school senior, serving for six years. He then used his ROTC scholarship and earned a bachelor's degree in 1976 from Siena Heights College.
Issa invested $7,000 in the early 1980s in a Cleveland-based car alarm company, Directed Electronics Inc., which he later acquired when the owner failed to repay a loan. The company, which Issa relocated to Vista, is the maker of the Viper alarm.
Issa ran unsuccessfully for the U.S. Senate in 1998, losing in the Republican primary to state Treasurer Matt Fong.
Issa was elected to the House of Representatives in 2000.
He and his wife, Kathy, have one son.
Profile
Darrell Issa, the representative from California's 49th District, is one of the highest-profile members of Congress, thanks to his position as chairman of the House Oversight and Government Reform Committee, a position he's held since January 2011.
He led the effort to investigate Operation Fast and Furious, a flawed gun-tracking sting focused on Phoenix-area gun shops by the Justice Department's Bureau of Alcohol, Tobacco, Firearms and Explosives. His investigation led to a House vote in June 2012 that found Attorney General Eric Holder in contempt of Congress.
In February 2012, Issa held hearings on a Department of Health and Human Services regulation requiring insurance plans to cover birth control. He also targeted former Countrywide Financial Corp., whose subprime loans helped start the nation's foreclosure crisis. He criticized legislation aimed at blocking foreign Internet thieves and swindlers, joining high-tech companies who worried it would curb online freedom.
As ranking member of the House oversight committee in the previous legislative session, his targets included the ACORN community organizing group and Toyota Motor Corp.
Issa opposed the 2009 approximately $800 economic stimulus package, saying the legislation amounted to runaway spending and "was crafted with lobbyists and special interests playing a much greater role than economists and bipartisanship."
The 2006 shift in House control from Republicans to Democrats cost Issa his chairmanship of the Oversight and Government Reform subcommittee on energy and resources. He then lost a bid to become chairman of the Republican House Policy Committee, the fourth-ranking GOP post in the House.
Issa had become the darling of Republican activists in 2003, as his infusion of $2 million of his own money revived what had been a moribund campaign to recall Democratic Gov. Gray Davis. What had seemed an unlikely quest to get the recall on the ballot became a reality thanks to Issa's money.
The millionaire car alarm magnate was poised to run for governor himself, but recall opponents locked in on the various controversies in his past _ primarily allegations he was involved in car theft schemes with his older brother _ and depicted the recall as a quixotic attempt by Issa to gain higher office.
After actor Arnold Schwarzenegger entered the race as a Republican, Issa withdrew, saying in a tearful news conference that he would devote his efforts instead to finding peace in the Middle East.
Issa's financial success came while heading up Directed Electronics Inc., the maker of the Viper alarm, where he turned an initial $7,000 investment into at least $200 million _ a fortune that helped pay for his forays in politics.
Issa was a leader in the 1994 fight for California's Proposition 187, which denied services to illegal immigrants but was ruled unconstitutional after voters approved the measure. He also supported Proposition 209 in 1996, which banned affirmative action in state and local contracting, employment and education.
Source: Associated Press