Dave Loebsack
House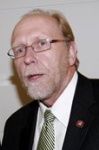 Birthdate: Dec. 23, 1952
Birth Place: Sioux City, IA, United States
Residence: Iowa City, IA
Religion: Methodist
First Elected: 2006
Gender: Male

Candidacy
Party: Democratic
State: Iowa
Office: House
District: District 2

Education
Undergraduate: Iowa State University
Degree: BA

Graduate: Iowa State University
Degree: MA

Graduate: University of California - Davis
Degree: PhD

Dave Loebsack was born in Sioux City, Iowa, and grew up in the Missouri River community. He attended Iowa State University where he earned a bachelor's and a master's in political science. He then earned a doctorate at the University of California-Davis.
Loebsack taught political science at Cornell College beginning in 1982. He was a longtime Democratic activist and served as chairman of the Linn County Phoenix Club, the fundraising arm of the Linn County Democratic Party, from 2002 to 2005.
Loebsack was elected to the U.S. House in 2006.
Following the 2010 census, redistricting put Loebsack in the same district as Rep. Bruce Braley, so he moved from Mount Vernon to Iowa City, in the newly drawn 2nd Congressional District.
He and his wife, Terry, have four children.
Profile
College professor Dave Loebsack was an unheralded challenger to Republican Rep. Jim Leach in 2006, upsetting the 15-term incumbent and helping Democrats take back control of the U.S. House.
The 2006 campaign was marked by a decision by both candidates to not be critical of each other, or air attack commercials, but to wage a civil discussion about the issues facing eastern Iowa.
Democrats have an edge over Republicans in the 2nd District, but non-affiliated voters outnumber both parties. And redistricting has dramatically reshaped the electorate in 2012, reflecting Iowa's loss of a congressional seat. Cedar Rapids no longer is in the district, and Davenport has been added. The 2nd District still is home to the University of Iowa.
After severe flooding in Iowa in June 2008, Loebsack worked to secure millions of federal dollars for flood aid and relief. Federal funding for flood repair remained a priority of Loebsack's in 2009 and 2010 as Cedar Rapids, Iowa City and other cities in his district struggled to overcome massive damage that remained long after the flood waters receded.
Loebsack voted in 2008 for the $700 billion Wall Street bailout package, saying he believed it was necessary to help spur the economy. He also voted for the 2010 health care reform bill.
He supports abortion rights and supported the repeal of the military's "don't ask, don't tell" policy regarding gays serving in the armed services. He supported the removal of U.S. troops from Iraq and while largely supportive of President Barack Obama's strategy in Afghanistan has called for more specifics about the U.S. mission and when troops can be withdrawn.
As a member of the Armed Services Committee, he has supported legislation that would benefit the Iowa National Guard, and he has worked to override Air Force recommendations to remove F-16 fighter jets from the Des Moines-based Air National Guard unit.
Loebsack has supported the president's efforts to create jobs and help the middle class during the recession that began in 2008. Upon winning his party's nomination in May 2012, he turned to the economy, saying "We're going to be focused on jobs and getting the country back on the right track."
Source: Associated Press