David Albert Scott
House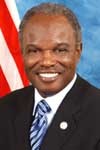 Birthdate: June 27, 1946
Birth Place: Aynor, SC, United States
Residence: Atlanta, GA
Religion: Baptist
First Elected: 2002
Gender: Male

Candidacy
Party: Democratic
State: Georgia
Office: House
District: District 13

Education
Undergraduate: Florida A&M University
Degree: BA

Graduate: University of Pennsylvania
Degree: MA

David Scott was born in Aynor, S.C., and lives in Atlanta. He earned a bachelor's degree from Florida A&M University and a master's degree from the University of Pennsylvania's Wharton School of Finance.
Scott worked for several management consulting firms in the 1970s and advised then-Gov. Jimmy Carter on revenue policy from 1969 to 1973.
He lives in Atlanta's Inman Park neighborhood, which is outside the 13th District. Home run champion and former Atlanta Brave Hank Aaron is his brother-in-law.
He was elected to the U.S. House in 2002.
Scott and his wife, Alfredia, have two children.
Profile
David Scott clinched a major victory for his Democratic Party in 2002 when he won one of Georgia's newest congressional seats. He got some help from the state Legislature as the primary beneficiary of Democratic redistricting.
Now in his fifth-term, he is among the most conservative African-Americans in Congress. He was an early supporter of Barack Obama's presidential bid and was co-chairman of his Georgia campaign.
Scott is a member of the Congressional Black Caucus and the Blue Dog Coalition, an organization of fiscally conservative Democrats.
During the health care debate in Congress in 2009, someone spray painted a swastika on a sign outside of Scott's Smyrna, Ga., office. The incident occurred about a week after Scott engaged in a heated debate over health care at a community meeting. Scott continued to receive hate mail in the days leading up to the 2010 vote on the health care reform bill.
In February 2009, he voted for the approximately $800 billion economic stimulus package backed by the Obama administration.
Scott has at times showed a more conservative bent than other Atlanta-area Democrats such as John Lewis.
He joined two other Georgia Democrats, Sen. Zell Miller and Rep. Jim Marshall, in voting for a resolution that would back former President George W. Bush in the Iraqi conflict, even if it meant acting without U.N. approval.
He raised eyebrows among some Democrats in 2008 by saying that he was wrong for opposing Bush's 2006 decision to send more troops into Iraq _ a move that had appeared to help restore some stability to the war-torn country.
Scott introduced a bill in Congress in March 2003 that attempted to duplicate his hallmark effort in a Georgia measure requiring all public schools to begin each day with one minute of "quiet reflection."
Although Scott's proposal is still state law he has faced broad resistance among his colleagues in Washington. He said it was always his plan to make the "moment of silence" a national law.
He was appointed by House Speaker Nancy Pelosi after the Democratic takeover in 2006 to serve on the NATO Parliamentary Assembly, an advisory panel that works on international issues.
Scott has faced personal financial difficulties in recent years. According to IRS liens, an advertising company that he founded with his wife had repeatedly missed tax payments for years and owed more than $150,000 in back taxes.
Scott said his wife ran the business and that he was not aware of the back taxes. The company later began paying off the taxes, some of which the Scotts said resulted from a mix-up at the IRS.
The attention did not keep Scott from cruising to re-election, despite primary and general election challenges in 2008 and 2010. In 2012, Scott escaped primary opposition. He faces a little known Republican challenger, Shahid Malik, in the November general election.
Source: Associated Press