David 'Dave' P. Joyce
House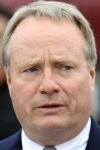 Birthdate: March 17, 1912
Birth Place: Cleveland, OH, United States
Residence: Novelty, OH
Religion: Roman Catholic
Gender: Male

Candidacy
Party: Republican
State: Ohio
Office: House
District: District 14

Education
Graduate: University of Dayton
Degree: BA

Graduate: University of Dayton
Degree: JD

Dave Joyce is a lifelong resident of northeast Ohio, born in Cleveland and now residing in Novelty. He earned a bachelor's and a law degree from the University of Dayton.
Joyce worked as a public defender in Cleveland and Geauga County in the 1980s. At age 30, he was appointed prosecutor of Geauga County, located east of Cleveland. He won election to a full term in 1988 and has served in the post since.
Geauga County, located along the Interstate 90 corridor between Cleveland and Erie, Pa., is next door to Lake County, where Joyce worked closely with then-prosecutor Steven LaTourette on crime issues. LaTourette later went to Congress and his 2012 decision not to seek another term opened up the opportunity for Joyce to run for office.
Joyce and his wife, Kelly, have three children.
Profile
Joyce, a six-term prosecutor in reliably Republican Geauga County in the suburbs and rural areas east of Cleveland, was a low-key officeholder who won a chance to move up when his political ally, nine-term U.S. Rep. Steven LaTourette, made a surprise decision to abandon his 2012 re-election campaign over frustration with political gridlock in Washington.
LaTourette's place on the ballot was filled by GOP leaders from the seven northeast Ohio counties that are part of the 14th Congressional District stretching from Cleveland's eastern suburbs to the state line near Erie, Pa. The vote to nominate Joyce was unanimous.
Joyce's profile rose early in 2012 as he led the case against a 17-year-old charged with killing three students in a shooting rampage in February at Chardon High School a half-mile from his office. Joyce personally handled the courtroom work in the case.
Joyce kicked off his campaign by saying he would take a conservative but practical message of belt-tightening to Congress.
"There's going to have to be some shared sacrifice here to make this system work," he said. "The economy's out of whack. Everybody in this community I know has tightened their belts to make it work for their family: I think Washington needs to do the same."
No leading Democrat was ready to challenge LaTourette, so the party's nomination went to Dale Virgil Blanchard, an accountant making his 10th run for Congress.
LaTourette endorsed Joyce.
Source: Associated Press