David E. Price
House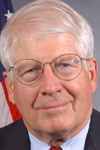 Birthdate: Aug. 17, 1940
Birth Place: Erwin, TN, United States
Residence: Chapel Hill, NC
Religion: Baptist
First Elected: 1996
Gender: Male

Candidacy
Party: Democratic
State: North Carolina
Office: House
District: District 4

Education
Undergraduate: University of North Carolina
Degree: BA

Graduate: Yale University
Degree: BD

Graduate: Yale University
Degree: PhD

David Price was born in Erwin, Tenn., and resides in Chapel Hill, N.C. He earned a bachelor's in 1961 from the University of North Carolina, then attended Yale University where he earned a divinity degree in 1964 and a doctorate in political science in 1969.
Price was a professor at Duke University from 1973 to 1986 and again in 1995 and 1996. He was a legislative aide to U.S. Sen. E.L. Bartlett from 1963 to 1967.
He worked for the North Carolina Democratic Party from 1979 to 1984 and helped change how the Democratic National Committee distributes nominating delegates.
Price was elected to the U.S. House in 1986. He lost a 1994 re-election bid, but won back his seat in 1996.
He and his wife, Lisa, have two children.
Profile
David Price has represented North Carolina's 4th District U.S. House seat for all but one term since 1986. He's slowly moved his way up the leadership ladder, proving himself as a reliable liberal vote while becoming the longest serving Democrat in the state's U.S. House delegation.
Price was a strong supporter of the federal economic stimulus package approved in 2009. He also endorsed the 2010 health care reform bill.
He voted in May 2010 for an amendment to the House defense appropriations bill to repeal the "don't ask, don't tell" policy banning gays from serving openly in the military. He also successfully inserted an amendment into the bill he said would expand oversight of private military contractors.
In early 2011, when House Republicans pushed legislation to abolish partial public financing of presidential campaigns, Price was among Democrats who denounced the move in part because they said it would enhance the power of special interests.
"There is a bipartisan history of supporting this program," he said. "Under the cover of achieving fiscal responsibility to come in here and abolish one of the proudest and most successful of our reform efforts I think does a disservice."
Price became chairman of the House Appropriations subcommittee on homeland security when Democrats regained control of Congress in 2007. He questioned in late 2009 whether taxpayers were getting their money's worth in border protection with immigrants continuing to cross into the United States illegally.
In the wake of President Barack Obama's inauguration, Price publicly criticized federal law enforcement officials over their handling of the event's crowds. Thousands of people with tickets didn't get into the ceremony and were kept instead in a tunnel underneath the National Mall.
Price also has employed his reputation as a Democratic political theorist to press for institutional reforms.
In the wake of lobbying scandals, Price and three other Democratic House members proposed changes that would make it more difficult for lawmakers to sneak provisions into legislation on behalf of special interests. The measure would stop lobbyists from arranging and secretly financing travel for lawmakers.
He was a longtime proponent of the so-called Stand By Your Ad provision _ incorporated into the 2002 campaign finance reform law _ that required candidates for federal office to appear in their paid ads, identify themselves and approve the ad's message. In March 2010, Price introduced a bill that would apply the same requirement to corporations, unions and trade associations that are now allowed to use operating funds to run ads supporting or opposing candidates.
Price sponsored legislation in October 2005 that would have required then-President George W. Bush to submit a plan to Congress for withdrawing U.S. forces from Iraq.
Source: Associated Press