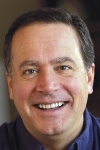 Birthdate: Dec. 25, 1959
Birth Place: Chicago, IL, United States
Residence: Bloomington, IL
Religion: Unitarian
Gender: Male

Candidacy
Education
David Gill was born in Chicago and now lives in Bloomington. He studied mathematics at the University of Illinois, where he also earned his medical degree.
Between college and medical school, Gill spent a year in Chicago working for an actuarial company. He initially went into family practice but today is an emergency room physician.
Gill ran for Congress in 2004, 2006 and 2010, losing each time to incumbent Republican Timothy Johnson.
Gill met his first wife, Polly, while in medical school and they had three children. She died of colon cancer in 2007. He has since married Elaine Gill, and the two of them have six children in all.
Profile
David Gill has been a consistent advocate for health care reform _ particularly a "single payer" plan. He says the single payer system could be paid for with a 5 percent payroll tax, which he says would lower costs for many businesses compared with what they pay for health insurance now.
Gill criticizes the 2010 health care overhaul signed into law by President Barack Obama. He says it contains some good elements _ such as letting people stay on their parents' insurance through age 26 and barring companies from denying insurance because of pre-existing conditions _ but it still amounts to a "deeply flawed law (that) will not provide substantive and sweeping reform."
Gill supports repealing the federal Defense of Marriage Act and legalizing same-sex marriages. "Every American citizen _ regardless of race, ethnicity, gender, or sexual orientation _ deserves fundamental fairness and the full range of human rights," he says.
Gill says he's again trying to get to Congress because Washington needs citizen legislators who aren't beholden to any party or interest group. He says the country needs common-sense citizen lawmakers and that he has a broad range of interests and understands economics and international issues.
He ran unsuccessfully against Rep. Timothy Johnson in 2004, 2006 and 2010. He has called Johnson, who withdrew from the campaign in April 2012, an "entrenched career politician" who pays more attention to political action committees than to voters.
Gill boasts that most of his money comes from individual donors instead of PACs _ which reflects his limited support from the political establishment. He supports public financing of all federal elections.
He opposes restrictions on abortion rights but says the number of abortions in America could be reduced through better birth control education and health insurance that reduces the cost of delivering and raising a child.
Source: Associated Press