David Phillip 'Phil' Roe
House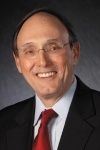 Birthdate: July 21, 1945
Birth Place: Clarksville, TN, United States
Residence: Johnson City, TN
Religion: Methodist
First Elected: 2008
Gender: Male

Candidacy
Party: Republican
State: Tennessee
Office: House
District: District 1

Education
Undergraduate: Austin Peay State University
Degree: BS

Graduate: University of Tennessee
Degree: MD

Phil Roe was born in Clarksville, Tenn., and now resides in Johnson City. He earned a bachelor's in 1967 from Austin Peay State University and a medical degree in 1973 from the University of Tennessee. He ended a two-year stint as a major in the Army Medical Corps in 1974.
Roe was a practicing physician for 34 years and served as mayor of Johnson City from 2007 to 2008.
Roe announced in 2007 he would donate $2.5 million to Austin Peay State University from his estate after he dies. Following a previous contribution, the school named its new facility for student athletes the Dr. David P. Roe Academic Center.
Roe was elected to the U.S. House in 2008.
Roe and his wife, Pam, have three children.
Profile
Phil Roe was a practicing physician for more than 30 years and he has drawn on his career background in staking out positions in Congress.
He joined his party in voting against the 2010 health care reform bill backed by President Barack Obama, citing Tennessee's expanded Medicaid program as evidence a public option would be costly and ineffective.
During his second term, he often spoke against deficit spending. "We are borrowing about 40 cents out of every dollar we spend," he said just after the August 2012 primary. "The future generations _ we're mortgaging their futures."
He is a member of the Veterans' Affairs' subcommittee on oversight and investigation and has called for VA health professionals to take responsibility for lax sterilization procedures at three agency hospitals that potentially exposed 10,000 veterans to HIV and other infections.
During an oversight and investigation subcommittee meeting in September 2009, Roe joined fellow lawmakers in questioning millions of dollars of bonuses awarded to VA employees. Roe said he wondered about the sensitivity of awarding the bonuses while the country was "shedding jobs like a dog shedding hair."
Roe also put his medical experience to work while commuting from his home in northeast Tennessee to work in Washington in 2011. He used CPR and a defibrillator to resuscitate a man who collapsed at the Charlotte airport.
Roe has been in line with other Republicans in the House in opposing Obama administration proposals on finance reform and stimulus spending.
He has supported the wars in Iraq and Afghanistan but would like to see efforts refocused on Afghanistan and thinks setting a timetable for withdrawal is wrong.
Before he joined Congress, Roe and other Johnson City commissioners were prevented in 2005 from making a $10,000 city donation to tsunami victims in Asia and Africa because of state laws that prohibited donations outside the city that do not benefit its citizens.
"It looks like this is a case of no good deed going unpunished, as they say," Roe said at the time.
Roe has endorsed Mitt Romney and said he expected to be a surrogate speaker for the presidential candidate during the fall 2012 campaign.
Source: Associated Press