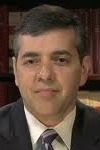 Birthdate: Sept. 16, 1965
Birth Place: New York, NY, United States
Residence: Miami, FL
Religion: Roman Catholic
First Elected: 2010
Gender: Male

Candidacy
Education
David Rivera was born in New York City and moved with his family to Miami in 1974. He attended Florida International University, where he earned a bachelor's in political science and a master's in public administration.
Rivera has deep roots in the Republican Party, working as a legislative assistant to U.S. Sen. Connie Mack and as Mack's political director in Miami during the 1988 election. Rivera also worked on the 1988 presidential campaign of then-U.S. Rep. Jack Kemp.
After working in the Washington offices of the Cuban-America National Foundation, Rivera in 1991 joined the Office of Cuba Broadcasting that oversees Radio and TV Marti signals to the communist island.
Rivera held several other GOP posts before winning election to the Florida House in 2002. He was elected to Congress in 2010.
He is single.
Profile
David Rivera was first elected to the U.S. House in 2010 in a Republican-leaning district that includes numerous Cuban-American voters in the Miami area, but his financial dealings have resulted in investigations that have put his political future in jeopardy.
Rivera was elected to the 25th Congressional District, but his district changed following the once-in-a-decade redistricting process and he is now running in the 26th District.
The latest controversy surrounding Rivera is whether or not he helped bankroll a Democratic shadow candidate in the 2012 primary for the 26th Congressional District.
He has represented part of the district in the state House since 2002. Before leaving the Florida Legislature he had risen to the post of chairman of the Appropriations Committee that oversees state spending.
Rivera has been a close ally and friend of U.S. Sen. Marco Rubio and helped Rubio's rise to speaker in the Florida House. The two still own a townhouse in Tallahassee on which a bank began foreclosure proceedings in 2010. Rubio said missed payments were due to a dispute over the terms of the mortgage.
While in the Legislature, Rivera pushed several pieces of legislation dealing with Cuba, including prohibiting the use of state money to assist professors from traveling to countries designated as sponsors of terrorism.
He also helped secure funding for programs in his home county, including for the medical and law schools at his alma mater, Florida International University.
Rivera dealt with negative publicity during his 2010 campaign for Congress, but since that time he has come under scrutiny for his finances and whether or not he has accurately reported his sources of income.
State officials announced in May 2012 that they closed a criminal probe into Rivera's personal financial dealings without filing charges but didn't clear him entirely. They cited Florida's brief statute of limitations and its lax campaign finance laws for not charging him with living off of his campaign funds and failing to disclose his income.
Rivera has called fixing the economy and job creation key issues. He favors reducing federal spending and enacting tax cuts to spur economic growth. He also said he supports a constitutional amendment to require a balanced federal budget and repealing the 2010 health care reform bill backed by President Barack Obama.
He also has called for immigration reform and sponsored his own bill to let children of illegal immigrants remain in the country for five years to allow them to seek a college education. Rivera also held a workshop this summer to help the children of illegal immigrants apply for the deferred deportation program announced by Obama.
Source: Associated Press