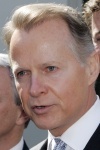 Birthdate: July 5, 1952
Birth Place: Kansas City, MO, United States
Residence: San Dimas, CA
Religion: Christian Science
Gender: Male

Candidacy
Education
David Dreier was born in Kansas City, Mo., and now lives in San Dimas, Calif. He earned a bachelor's in political science in 1975 from Claremont McKenna College and a master's in 1976 from Claremont Graduate University.
Dreier remains active in his family's real estate investment firm.
He was elected to the U.S. House in 1980. In February 2012, he announced that he would not seek re-election.
Dreier is single.
Profile
David Dreier was elected to the U.S. House the same year Ronald Reagan became president. He has promoted legislation in Congress that reflects his free-market economic advocacy and relatively moderate social views.
In February 2012 he said he would not seek re-election, becoming the sixth congressional member from California to announce retirement. Jim Brulte, a former Republican leader in the state Senate, called the exodus "a massive blow to California. There is no way around it."
Dreier voted in February 2009 against the approximately $800 billion federal economic stimulus package, saying it didn't provide enough relief for working families and small businesses and would dramatically expand the national debt. He co-authored an unsuccessful Republican alternative that emphasized tax cuts and a tax credit for homebuyers.
Dreier took a public role in the debate leading up to the passage of the 2010 health care reform bill, calling for cameras in the Rules Committee hearing room so that the public could witness what he called the shenanigans of their legislators.
He sponsored a measure in 2010 urging cooperation between the United States and Mexico in eliminating drug cartels.
Dreier has taken a high-profile role on trade issues, leading efforts to extend trade relations to China and pushing for an increase in the allotment of H1-B visas that go to foreign high-tech workers.
He became chairman in 1999 of the House Rules Committee, one of the most powerful and partisan jobs on Capitol Hill. He ran the committee expertly, playing a key role in shaping debates on bills, but lost his chairmanship when the GOP lost control of the House after the 2006 elections.
Dreier was co-chair of George W. Bush's 2000 and 2004 presidential campaigns in California, and was an ally of the president. He met Bush at a Republican congressional candidate seminar in 1978 before both were defeated in their initial bids for federal office.
Dreier maintains close ties with Gov. Arnold Schwarzenegger. He was a co-chairman of the actor's bid to replace Gov. Gray Davis in 2003, and after Schwarzenegger won the election, Dreier ran Schwarzenegger's transition team.
Dreier had a close re-election scrape in 2004 when two conservative talk show hosts started a "Fire Dreier" campaign, accusing him of being soft on illegal immigration. Dreier won the election by 11 percentage points, his lowest margin of victory since his first election.
He subsequently stepped up his efforts on illegal immigration, pushing with Rep. James Sensenbrenner in 2005 for passage of the REAL ID Act and proposing more-secure Social Security cards with digitized photos.
Dreier was reported to be in line in 2005 to succeed Rep. Tom DeLay as House majority leader, but the post ultimately went to Rep. Roy Blunt because of conservatives' concerns about Dreier's support for their agenda. Dreier has supported stem cell research and voted against a constitutional amendment banning gay marriage.
He was instead asked by then-Speaker Dennis Hastert to come up with an overhaul of lobbying ethics rules after lobbyist Jack Abramoff pleaded guilty to three felony charges in early 2006.
Source: Associated Press