Debbie Wasserman Schultz
House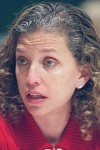 Birthdate: Sept. 27, 1966
Birth Place: Forest Hills, NY, United States
Residence: Weston, FL
Religion: Judaism
First Elected: 2004
Gender: Female

Candidacy
Party: Democratic
State: Florida
Office: House
District: District 23

Education
Undergraduate: University of Florida
Degree: BA

Graduate: University of Florida
Degree: MA

Debbie Wasserman Schultz was born in Forest Hills, N.Y., and lives in Weston, Fla. She received a bachelor's degree and a master's degree from the University of Florida.
She became the youngest woman ever elected to the Florida Legislature, serving in the House from 1992 to 2000, when she was elected to the state Senate, where she served from 2000 to 2004.
She was elected to the U.S. House in 2004.
Wasserman Schultz and her husband, Steve, have three children.
Profile
Debbie Wasserman Schultz has become the face and voice of the Democratic Party. She was chosen by President Barack Obama in 2011 to chair the Democratic National Committee. She often made television appearances for the party before heading the DNC, and as chairwoman she has become a lightning rod for criticism from conservatives while being the lead advocate for the Obama administration's policies.
She has been an advocate for children's issues, including in 2012, when she sought legislation that would increase penalties for people who possess child pornography. She also sponsored a bill that passed the House in August 2012 that would increase penalties for people who use identity theft to file fraudulent tax returns.
She voted in favor of the July 2010 Wall Street reform bill and the $26 billion state aid legislation designed to save hundreds of thousands of jobs. Both were signed into law.
Schultz disclosed in March 2009 that she had been battling cancer for the past year and had undergone seven major surgeries, including a double mastectomy and the removal of her ovaries. She didn't take time off from work through the ordeal.
She subsequently filed a bill that directs the Centers for Disease Control to develop a national education campaign aimed at women under 40. A Senate version of the legislation was included in the health care reform legislation passed in March 2010.
A bill sponsored by Schultz designed to keep Internet sex predators away from children was signed into law in October 2008. The so-called "Protect our Children" Act creates the largest law enforcement army to combat online child pornography, by requiring Internet companies to report child pornography and adding more than $320 million to the Justice Department to fight Internet crimes against kids.
After the 2008 election, she was picked to serve as vice chair of the Democratic National Committee and vice chair of the Democratic Congressional Campaign Committee, where she was responsible for helping re-elect Democratic House members.
She was an outspoken critic of the 2005 legislation supported by former President George W. Bush and former Republican governor Jeb Bush and passed by Congress to prevent the removal of brain-damaged Terri Schiavo's life-sustaining feeding tube. The president cut short a visit to his Texas ranch to sign the bill into law.
Despite passage of the law, the federal courts refused to intervene and Schiavo was allowed to die.
Schultz said she was stunned when a life insurance company declined her application for increased coverage because she might travel to Israel at some point. She reacted by introducing legislation to make such practices by insurers illegal.
Source: Associated Press