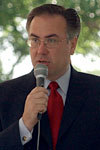 Birthdate: March 31, 1959
Birth Place: Merced, CA, United States
Residence: Atwater, CA
Religion: Roman Catholic
Gender: Male

Candidacy
Education
Dennis Cardoza grew up in a farming family in Merced County in California's Central Valley. He now lives in Atwater. He earned a bachelor's from the University of Maryland.
He won election to the Atwater City Council in 1984 and eventually served as mayor pro-tem. He won election to the state Assembly in 1996 and served three terms.
Cardoza won election to the U.S. House in 2002, replacing scandal-plagued incumbent Gary Condit.
He announced in October 2011 that he would not seek re-election.
Cardoza and his wife, Kathie, have three children.
Profile
Dennis Cardoza owes his Washington political career in large part to the scandal that enveloped his one-time mentor, former Rep. Gary Condit, who was tainted by the disappearance of his intern, Chandra Levy. Cardoza defeated Condit in the 2002 primary and went on to win the general election.
Cardoza announced in October 2011 that he would not seek re-election, blasting what he calls "the increasingly harsh tone in American politics."
He is a member of the Blue Dog Coalition, a fiscally conservative group of Democrats. In a written statement announcing his retirement plans, he said he was dismayed by President Barack Obama's administration's failure to understand and address the housing foreclosure crisis.
Cardoza supported in July 2010 an unsuccessful amendment to a bill that would require the president to declare a timetable for withdrawal of troops from Afghanistan.
His district is among the hardest hit in the nation by the foreclosure crisis, and he helped draft in 2009 the most controversial plank in President Barack Obama's housing rescue plan, a provision that would let bankruptcy judges rewrite mortgages to lower homeowners' monthly payments. The plan was defeated in the Senate.
Cardoza helped negotiate a 2008 farm aid bill that for the first time included significant funding to help produce growers. The measure, which was enacted by Congress over President George W. Bush's veto, included more than $1 billion for grants and other programs to aid fruit and vegetable farmers.
Cardoza played roles in helping Bush roll back parts of the 1973 Endangered Species Act. Most California Democrats criticized the measure for eliminating habitat protections for endangered and threatened wildlife. Meanwhile, most Republicans said private property owners should be compensated for being unable to use land that is home to protected plants and animals.
Cardoza is one of the more conservative Democrats within the California delegation, focusing on agriculture and other issues important to his district. He was active in investigating whether radioactive waste was buried under a federal prison in Atwater and he criticized claims that a University of California campus in Merced was wasteful. He has said increased access to education could remedy many of his Central Valley district's problems.
Cardoza has two adopted children, and he sponsored legislation in 2005 allowing military members to take paid leave when they adopt children. The measure was included in the 2006 Department of Defense bill. He also supports a commission to study and make recommendations on the country's foster care system.
Source: Associated Press