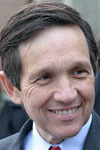 Birthdate: Oct. 8, 1946
Birth Place: Cleveland, OH, United States
Residence: Cleveland, OH
Religion: Catholic
Gender: Male

Candidacy
Education
Dennis Kucinich was born in Cleveland, where he still resides. He earned a bachelor's and a master's degree from Case Western Reserve University.
He served on the Cleveland City Council from 1970 to 1975 and from 1983 to 1985. He served as clerk of the Cleveland Municipal Court from 1975 to 1977, was mayor of Cleveland from 1977 to 1979 and was a state senator from 1994 to 1997.
He was unsuccessful in seeking the 2004 Democratic nomination for president, and he abandoned a second bid for the White House in 2008.
He was first elected to the U.S. House in 1996.
Kucinich, who is twice divorced, has one daughter. He married his third wife, Elizabeth Harper, in August 2005.
Profile
Dennis Kucinich, thrown together with incumbent Democratic Rep. Marcy Kaptur of Toledo in a merged district, lost his bid for renomination in March 2012.
Kucinich has defined his political career by reciting a mantra of the persistent.
He has continued to urge his congressional colleagues to bring U.S. troops home from Iraq and Afghanistan, and he frequently talks about repealing the Patriot Act, creating jobs and canceling trade pacts such as the North American Free Trade Agreement.
The House voted in March 2010 against a Kucinich resolution that would have forced a withdrawal of all U.S. troops from Afghanistan by the end of the year.
Kucinich opposed the health care reform bill when the House voted on it in 2009 and voted in favor of the legislation in March 2010.
During his 2004 presidential campaign, Kucinich posted single digits in most state primary elections, including Ohio's, yet stayed in the race.
He celebrated his bachelorhood, telling New Hampshire audiences that he was seeking a mate and going on a breakfast date with the winner of an online contest. Nothing romantic evolved but he earned appearances on late-night comedy talk shows. Kucinich married for a third time in 2005.
Kucinich has written unsuccessful bills to abolish the death penalty, create a U.S. Department of Peace, establish a universal pre-kindergarten program and ban the use of weapons in space.
Kucinich was the eldest of seven children born to a Croatian truck driver and a Slovenian homemaker. He scrubbed floors so he and his younger siblings could attend Catholic school, moving out at age 17.
He ran his first campaign for Cleveland City Council at age 21. He lost that election but won the seat two years later in 1969. He was elected mayor of Cleveland at age 31, becoming the youngest leader of a major American city.
He also became the mayor of the first city since the Great Depression to go into default. Kucinich, whose confrontational style of politics earned him the nickname "Dennis the Menace," refused to sell the city's municipal electrical system, so local banks foreclosed on the city.
The city's failure plagued his career for years. He survived a recall by 236 votes but lost re-election by a landslide 1979 to Republican George Voinovich, who was elected to the U.S. Senate in 1998.
Kucinich made a comeback in 1994, winning a seat in the state Senate. He then won an upset victory to the U.S. House in 1996 over incumbent Republican Rep. Martin Hoke.
Source: Associated Press