Devin G. Nunes
House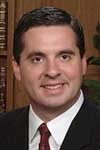 Birthdate: Oct. 1, 1973
Birth Place: Tulare County, CA, United States
Residence: Tulare County, CA
Religion: Roman Catholic
First Elected: 2002
Gender: Male

Candidacy
Party: Republican
State: California
Office: House
District: District 22

Education
Undergraduate: California Polytechnic State University
Degree: BS

Graduate: California Polytechnic State University
Degree: MS

Devin Nunes was born and raised in Tulare County, Calif., where he still resides. He earned an associate degree at the College of the Sequoias, and attended California Polytechnic State University where he earned bachelor's and master's degrees.
Nunes unseated an 18-year incumbent on the College of the Sequoias Board of Trustees. He was 22-years-old and still a student.
He led an effort during his tenure to provide smaller communities greater access to the Internet and satellite educational services. He also served as president of the College Republicans.
Nunes graduated in 2000 from the California Agriculture Leadership Fellowship Program and was appointed state director for the Department of Agriculture by President George W. Bush.
He was elected to the U.S. House in 2002.
Nunes and his wife, Elizabeth, have a child.
Profile
Devin Nunes came to Congress with an agenda defined more by his experiences with cattle than with politicians, but he still managed to find a seat on the powerful Ways and Means Committee.
Nunes has focused on simplifying the tax system and developing a water policy for California's Central Valley, where the top industry is agriculture. He sought to eliminate certain taxes and regulations, including the capital gains, alternative minimum, estate and so-called marriage penalty taxes.
He voted against the 2010 health care reform bill, and that same year blamed Democratic environmental policies for job losses in his agriculture-dependent district.
Nunes says the Central Valley water crisis "could drive agriculture out of business," and he supports a new dam on the San Joaquin River above Fresno. He demanded in April 2009 that Gov. Arnold Schwarzenegger resign, saying Schwarzenegger's response to the state's water shortage was little more than "lip service." He has also sparred with Sen. Dianne Feinstein over water and other issues, running a series of ads against her.
In 2011, Nunes sponsored the San Joaquin Valley Water Reliability Act to restore water to the valley that had been restricted to enforce the Endangered Species Act.
He was co-chair in 2012 of the Brazil and Mexico caucuses, traveling to Brazil and Colombia, and meeting with the President Calderon of Mexico.
Nunes was among a group of Republican lawmakers in May 2009 who introduced an alternative health care plan, which called for raising money by taxing health benefits and using the revenue to give people tax credits to buy their own health coverage.
He praised former President George W. Bush for signing energy, highway and bankruptcy reform legislation. He also supported Bush's efforts to open the Arctic National Wildlife Refuge to oil exploration.
Nunes co-sponsored a bill with Rep. Mike Ross in 2008 that would permit drilling in ANWR and create tax credits to promote nuclear energy.
He supported legislation passed by the House in July 2008 that would ensure sole surviving siblings who are discharged from the military before their enlistment period is over receive full veterans' benefits.
The measure, known as the Hubbard Act, was prompted by the case of a soldier from Nunes' district who was the only one of three brothers serving in Iraq to come home alive. After being discharged from the Army under its "sole survivor" policy, Jason Hubbard of Clovis was denied health coverage and access to the GI Bill and was asked to repay some of his enlistment bonus.
Nunes is member of the Congressional Hispanic Conference.
Source: Associated Press