Diana L. DeGette
House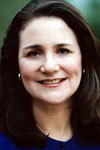 Birthdate: July 29, 1957
Birth Place: Tachikawa, , Japan
Residence: Denver, CO
Religion: Presbyterian
First Elected: 1996
Gender: Female

Candidacy
Party: Democratic
State: Colorado
Office: House
District: District 1

Education
Undergraduate: Colorado College
Degree: BA

Graduate: New York University
Degree: JD

Diana DeGette was born in Tachikawa, Japan, where her father was stationed with the Air Force. She now resides in Denver. She earned a bachelor's in political science and philosophy from Colorado College in 1979 and a law degree from New York University.
DeGette worked as an attorney with the firm of McDermott, Hansen and Reilly in Denver.
She was elected to the Colorado House in 1992 and served two terms. She was elected to the U.S. House in 1996.
DeGette and her husband, Lino, have two children.
Profile
Diana DeGette is a fourth-generation Denverite who serves Colorado's most compact and diverse congressional district. She was elected to the U.S. House in 1996, replacing retiring Democratic Rep. Patricia Schroeder.
DeGette has been a fitting successor to the feminist Schroeder, concentrating on women's issues, health care and education. DeGette is a deputy whip and member of the Energy and Commerce Committee, where she has worked to expand medical research and reform corporate accounting practices.
When President Barack Obama issued an executive order in March 2009 removing funding restrictions for embryonic stem cell research, DeGette applauded the move.
For DeGette, embryonic stem cell research is partly personal: Her daughter suffers from diabetes, and some researchers suggest stem cells may be able to treat or cure diabetes.
DeGette took a prominent role in the passage of the 2010 health care reform bill. She is a vocal supporter of abortion rights and co-chairs the House Pro-Choice Caucus. She has been an outspoken critic of Republicans' policies related to women's health.
In a May 2012 interview on MSNBC, DeGette accused the GOP of giving female officials a public role but not a substantive one: "What it feels like to me is the Republican leadership is saying, 'O.K., we've got these gals in here, look, here they are, and they're going to vote for the same anti-women policies that we're putting forward."
Another health-related concern of DeGette's is the potential negative effects of a type of drilling for natural gas, called hydraulic fracturing or "fracking." In April of 2012, DeGette and fellow Democratic Rep. Henry Waxman sent a letter to the Environmental Protection Agency Administrator Lisa Jackson requesting that the EPA consider a study by the Colorado School of Public Health that reveals potential increased health threats from exposure to toxic chemicals near natural gas wells.
DeGette's solidly Democratic district, which includes the entire city of Denver, became a bit less Democratic after 2010 redistricting. The 1st District now includes the communities of Sheridan, Englewood and Cherry Hills Village, bringing more Republican voters. But her new district has the highest percentage of registered Democrats of any district in Colorado, 45 percent, and the court that drew the new districts did not describe the 1st District as "competitive."
Source: Associated Press