Doc N. Hastings
House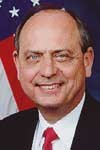 Birthdate: Feb. 7, 1941
Birth Place: Spokane, WA, United States
Residence: Pasco, WA
Religion: Protestant
First Elected: 1994
Gender: Male

Candidacy
Party: Republican
State: Washington
Office: House
District: District 4

Education
Undergraduate: Central Washington University
Degree: Attended

Undergraduate: Columbia Basin College
Degree: Attended

Doc Hastings was born in Spokane, Wash., and resides in Pasco. He attended Columbia Basin College and Central Washington University but did not graduate.
He was active in Republican and community activities and is a past president of the Pasco Chamber of Commerce. He served in the Army Reserve from 1964 to 1969 and was president of a paper company beginning in 1967.
Hastings served in the Washington House from 1979 to 1987.
He was first elected to the U.S. House in 1994.
Hastings and his wife, Claire, have three children.
Profile
Doc Hastings is the top Republican on the House Natural Resources Committee, a position he assumed in December 2008 after several years on the chamber's Rules and Ethics committees.
He has been a proponent of expanding offshore drilling, saying the move would create more U.S. jobs, reduce the country's dependence on foreign oil and bring down gas prices. He also has supported efforts to ease environmental regulations governing mining on federal lands.
Hastings has fought to try to overhaul the Endangered Species Act, calling it "a tool in costly lawsuits where politics trump science and jobs and economic prosperity are put in jeopardy." He also has opposed efforts to remove hydropower dams on Pacific Northwest rivers, sponsoring a bill in August 2012 barring federal money from being used to study or mitigate against removal of a federal dam.
He has been a strong advocate for cleaning up the Hanford nuclear reservation in his district and supported efforts to designate Hanford's B Reactor as a National Historic Landmark. He is a strong proponent of the proposed Yucca Mountain nuclear waste repository in Nevada, because that's where Hanford waste would go. Hastings was one of 91 lawmakers in July 2010 who asked the Energy Department to stop dismantling the nuclear waste repository.
Hastings has routinely advocated for new water storage in his arid region, where drought raises concerns about streamflows for threatened and endangered fish and about an adequate water supply for towns and farmers, who rely on irrigation to grow an abundance of crops.
In late 2008, Hastings opposed President George W. Bush's $700 billion Wall Street bailout bill, and opposed in 2009 the economic stimulus package backed by President Barack Obama. In 2000, he also opposed the Clinton administration's creation of a federally managed national monument on the Hanford Reach, 51 miles of prime salmon-spawning habitat on the Columbia River.
Hastings is a self-described conservative. He was an anti-abortion activist who has supported a constitutional amendment for a balanced federal budget and maintenance of a strong national defense.
Hastings has voiced support for a guest worker program for agriculture and helped win approval of a bill allowing military personnel who are legal permanent residents to apply to become U.S. citizens after a year of service. Previous law required legal residents to serve three years in the military before they could apply.
Source: Associated Press