Donald 'Don' Edwin Young
House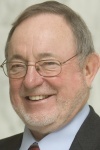 Birthdate: June 9, 1933
Birth Place: Meridian, CA, United States
Residence: Fort Yukon, AK
Religion: Episcopalian
First Elected: 1973
Gender: Male

Candidacy
Party: Republican
State: Alaska
Office: House
District: At Large

Education
Undergraduate: California State University - Chico
Degree: BA

Undergraduate: Yuba Junior College
Degree: Attended

Don Young was born in Meridian, Calif., and currently lives in Fort Yukon, Alaska. He attended Yuba Junior College and earned a bachelor's degree from California State University-Chico.
Young was elected mayor of Fort Yukon in 1964. He was elected to the state House two years later, serving two terms, and to the state Senate in 1970.
Young was the Republican candidate in the general election in 1972 against incumbent U.S. Rep. Nick Begich. Three weeks before the election, Begich's plane disappeared on a flight from Anchorage to Juneau. Alaskans re-elected Begich anyway.
Begich was declared dead in December 1972 and Young won a close special election in March 1973 and has held the seat since.
Young and his late wife, Lu, have two daughters.
Profile
Don Young has already said if he wins re-election to the U.S. House in November 2012, he would seek another term in 2014, when he would be 81 years old.
Young has served as Alaska's lone U.S. House member since 1973, and continues to enjoy widespread popularity in Alaska, having won 79 percent of the vote in the August 2012 Republican primary. He will face Democratic state Rep. Sharon Cissna in the November general election.
Young has remained an unabashed supporter of earmarks, which critics see as pork but Young sees as important for a state like Alaska, which is huge geographically and has communities ranging from big cities to tiny villages.
As one of the House negotiators on a highway bill in June 2012, he said he "saved" the Alaska Railroad by securing critical funding and made permanent funding for the Alaska ferry system.
He said there are things you can do in Washington, in spite of a ban on earmarks, to fund projects _ but it's a matter of knowing how Congress works.
Young has been touched by scandal. Just weeks before the August 2010 primary, Young announced that federal prosecutors had decided not to pursue an investigation of him over connections to an Alaska businessman convicted of bribing state lawmakers. He has said nothing more about the matter.
The Republican spent more than $1 million in legal fees and stepped down in 2009 as the lead Republican in a powerful committee. He said it was to focus on clearing his name in a corruption investigation; he denied any wrongdoing. He said he was making the decision for the good of the Republican Party and called it a temporary move.
In December 2011, the U.S. House Ethics Committee concluded that Young did not receive improper donations to a legal defense fund. But it said it was revising its rules to impose new contribution limits on owners who run multiple companies. The nonpartisan Office of Congressional Ethics had asked the committee to review the case after its board found substantial reason to believe Young had accepted contributions exceeding the $5,000 limit for any individual or organization for a calendar year.
Young brands himself a conservative and has won votes over the years with strong support for gun and hunting rights and a strong military. He has made a career out of railing against "extreme environmentalists" and an oppressive federal bureaucracy that locks up Alaska's mineral, timber and petroleum resources.
But he has strayed from the stereotype with his vote supporting the Omnibus Public Land Management Act, signed in March 2009 by President Barack Obama. That bill adds two million acres of land to the federal wilderness system, and includes a land swap that transfers more than 61,000 acres to the federal government in exchange for allowing Alaska to build an airport access road through the Izembek National Wildlife Refuge.
One former aide for Young, Mark Zachares, pleaded guilty to conspiracy for accepting $30,000 of tickets from congressional influence peddler Jack Abramoff.
Source: Associated Press