Donna Edwards
House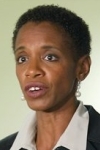 Birthdate: June 28, 1958
Birth Place: Yanterville, NC, United States
Residence: Fort Washington, MD
First Elected: 2008
Gender: Female

Candidacy
Party: Democratic
State: Maryland
Office: House
District: District 4

Education
Undergraduate: Wake Forest University
Degree: BA

Graduate: Franklin Pierce Law Center
Degree: JD

Donna Edwards was born in Yanterville, N.C., and now resides in Fort Washington, Md. She earned a bachelor's in 1980 from Wake Forest University and a law degree in 1989 from the Franklin Pierce Law Center.
Before going to law school, Edwards worked as a NASA contractor at Goddard Space Flight Center in Greenbelt. She later co-founded and was the first executive director of the National Network to End Domestic Violence.
Edwards worked on campaign finance and lobbying reform in Washington, D.C., and she clerked for a Superior Court judge.
She is separated from her husband, Derek, and has a son.
Profile
Donna Edwards knocked off eight-term incumbent Rep. Albert Wynn in the 2008 Democratic primary, capitalizing on voter dissatisfaction with some of his votes on the Iraq war and home foreclosures in a district that includes many of Washington, D.C.'s eastern and northern suburbs.
Edwards, a lawyer and nonprofit executive, then won a special election in June 2008 after Wynn stepped down before his term ended.
Edwards won the April 2012 Democratic primary with 92 percent of the vote.
In March 2012, she criticized the Republican budget resolution for the next fiscal year, describing it as "a clear, concise statement of House Republicans' extreme ideological values, not the values of the American people."
"Republicans want to end the Medicare guarantee, eliminate basic health care services, and continue to expand tax breaks for large corporations, big oil companies, and the wealthiest of Americans," Edwards said at the time.
She has been a persistent supporter of President Barack Obama's health care overhaul.
"At this important 2-year anniversary, for constituents in my district and throughout the country, health care reform has already delivered important and tangible benefits due to a number of provisions in effect today," she said in March 2012.
Representing a district where constituents have been hard hit by foreclosures, she praised the nearly $26 billion settlement with the nation's five largest mortgage servicers. The agreement included about $960 million for Maryland.
"This historic agreement provides some much-needed relief to thousands of Maryland homeowners who have suffered during this housing crisis," Edwards said in a February 2012 statement.
In January 2011, she was selected to serve as a member of the House Ethics Committee.
Edwards has been working in Congress on getting federal funding for a 16-mile light rail line in the Washington suburbs that would run in her district.
"This is an opportunity to redefine the scope of public transportation throughout our communities, providing connectivity and much needed transportation options in the region," she said in July 2010.
Also in July 2010, she supported legislation to reduce the disparity between sentences for people who possess crack and those who possess powder cocaine.
"The Fair Sentencing Act of 2010 is a critical step towards addressing fairness standards in our sentencing laws," Edwards said. "Drug abuse remains a destructive force in our communities, but we must ensure that the policies we implement are smart, fair, and balanced."
Source: Associated Press