Doris Okada Matsui
House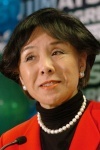 Birthdate: Sept. 25, 1944
Birth Place: Poston, AZ, United States
Residence: Sacramento, CA
Religion: United Methodist
First Elected: 2005
Gender: Female

Candidacy
Party: Democratic
State: California
Office: House
District: District 6

Education
Undergraduate: University of California - Berkeley
Degree: BA

Doris Matsui was born in a World War II internment camp for Japanese-Americans in Poston, Ariz. She was raised in Dinuba, Calif., and now lives in Sacramento. She earned a bachelor's degree in psychology from the University of California-Berkeley.
Matsui was a board member on Bill Clinton's presidential transition team in 1992. She was a deputy assistant to the president and deputy director of public liaison from 1993 to 1998.
Matsui was a lobbyist with the Washington, D.C., law firm of Collier Shannon Scott until 2005, when she won her late husband's vacant House seat. Bob Matsui died on Jan. 1, 2005, of complications from a rare bone marrow disease.
Doris Matsui has a son.
Profile
Doris Matsui was sworn into the U.S. House in 2005, filling California's 5th District seat left vacant by the death of her husband, Rep. Bob Matsui, who served the district for 26 years.
In 2012, she is running for re-election against Republican Joseph McCray Sr. of Fair Oaks in the new 6th District, a Democratic district that includes the cities of Sacramento and West Sacramento and several suburbs.
Matsui applauded the Supreme Court's June 2012 decision upholding the 2010 health care reform bill. "At its core, the ACA is about expanding access to affordable health care. Today's decision by the highest court in the land will ensure America's seniors, young adults, small businesses and many others continue to benefit from this historic legislation," she said.
She takes credit for bringing federal funding to the Sacramento region since the capital region was hit hard by cuts to the state budget and the poor economy. She introduced legislation in July 2010 allocating Medicaid funding to community centers, clinics and organizations to provide mental health and addiction treatment to the poor. She said while introducing the bill that it could allow Sacramento-area clinics to remain open at the same time their support was being reduced by cutbacks in state and local funding.
She promoted federal funding to upgrade flood protection levees and dams in an area that is considered second only to New Orleans in being vulnerable to catastrophic flooding. That includes a record $86.5 million in the 2010 fiscal year.
Matsui also has promoted making Sacramento a hub for mass transit, including constructing a transportation network in the city's downtown. Her "Compete Streets" legislation promotes bike lanes and sidewalks in urban areas.
Her late husband, Bob Matsui, a confidant of then-Minority Leader Nancy Pelosi, died at age 63 of complications from a rare bone marrow disease. His widow became a vocal supporter of stem cell research, which she has said might have helped her husband.
She previously worked in President Bill Clinton's administration and as a lobbyist on issues including technology, telecommunications and health care.
Matsui won the House seat based on her experience as a Washington insider and her promise to carry on her late husband's work, especially regarding improved flood control and expanded transit service.
Matsui introduced the Cruise Vessel Security and Safety Act, which sets minimum heights for cruise-ship safety railings and requires the installation of video surveillance systems, peep holes, security latches and other cabin security measures. Matsui sought the legislation in 2006 after a constituent who was raped aboard a cruise ship approached her. Congress approved the bill in June 2010.
The House passed a bill in June 2010 limiting the use of formaldehyde in home construction materials. Matsui managed the House's passage of the legislation, which was dubbed the Formaldehyde Standards for Composite Wood Products Act.
Source: Associated Press