Doug Lamborn
House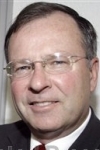 Birthdate: May 24, 1954
Birth Place: Leavenworth, KS, United States
Residence: Colorado Springs, CO
First Elected: 2006
Gender: Male

Candidacy
Party: Republican
State: Colorado
Office: House
District: District 5

Education
Undergraduate: University of Kansas
Degree: BS

Graduate: University of Kansas
Degree: JD

Doug Lamborn was born in Leavenworth, Kan., and now lives in Colorado Springs, Colo. He attended the University of Kansas where he earned a bachelor's in journalism in 1978 and a law degree in 1985.
Lamborn has worked as a freelance writer and construction worker. He moved to Colorado Springs in 1987 and began working in a private law firm.
He won election in 1994 to the state House and was re-elected in 1996. He was elected to the state Senate in 1998 and re-elected in 2002.
Lamborn was elected to the U.S. House in 2006.
He is married and has five children.
Profile
Doug Lamborn is among the most conservative members of the House, but a feisty brand of conservatism in Lamborn's Colorado Springs district keeps him on his toes. He has had to fend off vigorous primary challengers each time he's sought office.
Lamborn stepped on GOP toes in 2006 when he bested the party's favored pick to replace retiring 20-year incumbent Rep. Joel Hefley. Hefley's aide, Jeff Crank, sought to replace his boss, but Lamborn won a bruising six-way primary with a campaign Hefley called "sleazy."
Lamborn's time in Washington hasn't gone much easier. Even after Republicans took control of the House in 2010, Lamborn has failed to sponsor a single bill that has become law. His dismal record has earned him plenty of scorn; the congressman insists he won't compromise his conservative beliefs in order to see his bills pass and doesn't mind being to the right of even his own party leadership.
Lamborn strikes some as too extreme, but his refusal to budge on conservative positions has earned him top ratings from the powerful conservative advocacy groups Club for Growth and Americans for Prosperity.
He voted against the 2009 approximately $800 billion economic stimulus bill. He also opposed a plan by President Barack Obama's administration to assist homeowners facing bankruptcy, saying it "rewards poor decisions." He voted against both the 2010 health care reform bill and the 2010 climate-change legislation backed by Democrats.
In April 2012, Lamborn called for Attorney General Eric Holder to resign over a U.S. gun-tracking operation in Mexico. In Operation Fast and Furious, U.S. agents hoping to track weapons allowed hundreds of guns to flow from U.S. gun shops in Arizona into Mexico. Two of the guns were later discovered at the scene of the killing of a U.S. border agent.
Lamborn has battled against federal oversight of natural-gas drilling procedures including hydraulic fracturing, or "fracking." Using his position on the Natural Resources Committee, Lamborn led a Denver field hearing in May 2012 to look at proposed Interior Department drilling regulations.
"This administration's anti-energy policies continuously hinder rather than help job creation and energy production," Lamborn concluded.
Lamborn supports a balanced-budget amendment and favors repealing the 2010 health care reform law. On a lighter note, he sponsored a 2012 bill to legalize hiking on the Manitou Incline hiking trail, a hiking route up Pike's Peak that is extremely popular with hikers but technically unauthorized on an out-of-use railway.
Lamborn's district in 2012 remains largely intact after congressional redistricting. The 5th District remains the most Republican in Colorado, with the GOP having a 20-point advantage over Democrats.
Source: Associated Press