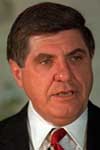 Birthdate: May 17, 1941
Birth Place: McCook, NE, United States
Residence: Omaha, NE
Religion: Methodist
Gender: Male

Candidacy
Education
Ben Nelson of Omaha was born an only child and raised in McCook, Neb. He earned a philosophy degree in 1963 from the University of Nebraska, where he also earned a master's in 1966 and a law degree in 1970.
Nelson worked for seven years for the Nebraska Insurance Division, and served as the state insurance director for a year under Democratic Gov. Jim Exon.
Nelson became CEO of Central National Insurance Group of Omaha in 1980. He re-entered private law practice in 1981, then jumped to politics in 1990, when he upset incumbent Gov. Kay Orr in the state's fourth-closest gubernatorial race in history. In 2000, he was elected U.S. senator to replace outgoing Sen. Bob Kerrey.
Nelson and his wife, Diane, have four children.
Profile
Ben Nelson, the lone Democrat in Nebraska's five-member congressional delegation, shocked political circles in Washington and his home state when he announced at the end of 2011 that he would not seek a third term as U.S. senator.
Nelson was hardly at the top of his political game when he announced his decision to retire. He had earned a reputation in his first term as a bipartisan politico, but came under scathing fire from conservatives midway through his second term for his role in shepherding the 2010 health care reform bill into law.
A former insurance executive considered at one time to be the most conservative Democrat in the Senate, Nelson had withheld support for the health care reform legislation for weeks. But in the days before Christmas in 2009 and under intense pressure from fellow Democrats, Nelson finally provided the 60th vote needed to move the health care measure to the full Senate, where it eventually passed.
Republicans and anti-abortion supporters howled in protest, accusing Nelson of betraying his heavily conservative state. Prophetically, the chairman of Nebraska's Republican Party declared Nelson's decision to be the end of his political career in Nebraska.
The din grew only louder and hotter over the next two years, with Republicans vowing to "Give Ben the Boot," until he announced his plan to step down. Former U.S. Sen. Bob Kerrey stepped into the race to give Democrats a shot at holding on to the seat. He faces Republican state Sen. Deb Fischer in the November 2012 general election.
Nelson has consistently defended his health care vote, and bristles at the mention of Republicans' most prolific criticism of his vote _ that he traded his vote for a deal that would have given Nebraska federal funding for Medicaid expansion. The proposal was removed before the bill's final passage, but it's derogatory moniker _ the "Cornhusker Kickback" _ persisted, with Republicans repeating it ad nauseam in their avowal to see him ushered out of office.
Nelson has maintained that he was trying to get federal funding for all states, because he disagreed with the measure's threat to withhold states' entire Medicaid allotment if they failed to expand Medicaid.
When the U.S. Supreme Court upheld the vast majority of the health care law in June 2012 _ but struck down the provision to force states to expand Medicaid coverage _ Nelson said he felt vindicated.
"Sometimes, the irony of all ironies occurs," he said after the June ruling, six months after he announced he would not seek a third term.
Prior to the health care debate, Nelson had gained a reputation as a centrist, thanks to his moderate positions and work on a number of bipartisan efforts. He also isn't afraid to challenge his own party _ as he showed when he supported then-President George W. Bush's tax cuts in 2001 and 2003.
Despite that, he managed to build goodwill with Senate Majority Leader Harry Reid and other senior Democrats by promising to never surprise them with his positions and by holding fundraisers for his compatriots up for re-election.
Nelson was one of the so-called Gang of 14 who in 2005 helped negotiate the end to a procedural standoff over judicial nominations. He also worked to bring the needed Republican votes to pass the 2009 economic stimulus package backed by President Barack Obama, helping trim millions of dollars from the bill.
Nelson has faced challenges in his personal life. His first wife committed suicide in 1977, and he remarried another widowed parent in 1980.
"It's not something that ever goes away, but it's something you learn to live with," Nelson has said.
Source: Associated Press