Earl Blumenauer
House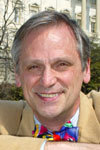 Birthdate: Aug. 16, 1948
Birth Place: Portland, OR, United States
Residence: Portland, OR
First Elected: 1996
Gender: Male

Candidacy
Party: Democratic
State: Oregon
Office: House
District: District 3

Education
Undergraduate: Lewis and Clark College
Degree: BA

Graduate: Lewis and Clark College
Degree: JD

Earl Blumenauer was born in Portland, Ore., where he still resides. He earned a bachelor's in 1970 and a law degree in 1976, both at Lewis and Clark College.
Blumenauer began his political career serving in the Oregon House from 1972 to 1978. He served as Multnomah County commissioner from 1978 to 1986 and was on the Portland City Council from 1986 to 1996. He was elected to the U.S. House in 1996.
Blumenauer got married for the third time in 2004. He and his wife, Margaret, have two children.
Profile
Earl Blumenauer won a special election to Congress in 1996, and since then has been most associated with one consuming passion: the bicycle. He founded the Congressional Bike Caucus, wears a bicycle lapel pin and uses his bike to get everywhere _ even meetings at the White House.
Blumenauer for years was regarded by some as quaint for his advocacy of bicycle riding as a cure-all for everything from climate change to obesity. Over the years, though, his "living communities" agenda has become increasingly en vogue. The agenda includes reduced air pollution, improved mass transit, lower crime, better planning and zoning laws, and support for using federal stimulus dollars for more bicycle paths.
Blumenauer warned in 2011 that the Bonneville Power Administration's plans to temporarily shut off wind turbines risked causing "significant economic harm" to Oregon's fledgling renewable energy industry.
Six months after Republicans took control of the House of Representatives following the 2010 election, Blumenauer told The Associated Press it was "the hardest period I've ever been involved with." He decried a deep partisan divide in Washington and complained that congressmen would tell outright lies to win political battles.
His name was often floated as a potential candidate for Portland mayor, but he said he wasn't interested.
Blumenauer was an early and vocal supporter of then-Sen. Barack Obama's presidential campaign. His seat on the Ways and Means Committee put him in a position to help Obama on taxes and other issues, and Blumenauer voted in 2009 for the approximately $800 billion economic stimulus package backed by the president.
Blumenauer was also an inadvertent player in a controversy regarding the 2010 health care reform bill when former Alaska Gov. Sarah Palin wrote on Facebook that the bill would create "death panels."
It was Blumenauer's idea to include the idea of reimbursing doctors for end-of-life counseling in the bill, but he said he was completely caught off guard by the firestorm it created.
Blumenauer is a guru of so-called smart growth and finds himself in demand around the country as a speaker, usually on transportation and land-use issues.
He has pushed a flood-insurance reform bill that would require huge rate increases for people who repeatedly file for federal flood assistance. Blumenauer says the measure would overhaul a federal program he says mindlessly encourages people to stay in homes "where Mother Nature repeatedly shows they are not wanted."
Southern lawmakers, particularly in Louisiana and Florida, have attacked the measure as an assault on their way of life.
Source: Associated Press