Eddie Bernice Johnson
House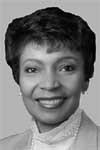 Birthdate: Dec. 3, 1935
Birth Place: Waco, TX, United States
Residence: Dallas, TX
Religion: Baptist
First Elected: 1992
Gender: Female

Candidacy
Party: Democratic
State: Texas
Office: House
District: District 30

Education
Undergraduate: Texas Christian University
Degree: BA

Graduate: Southern Methodist University
Degree: MPA

Eddie Bernice Johnson was born in Waco, Texas, and now lives in Dallas. She earned a bachelor's in nursing at Texas Christian University in 1967 and a master's in public administration in 1976 from Southern Methodist University.
Johnson then served as chief psychiatric nurse and psychotherapist at the Veterans' Administration Hospital in Dallas.
In 1972, she became the first black woman from Dallas County elected to the Texas House of Representatives. She held the seat until 1977, when she was appointed regional director of the Department of Health, Education and Welfare. She worked in the department's Washington office as executive assistant to the administrator for primary health care from 1979 to 1981.
Johnson was elected to the Texas Senate in 1986 and was first elected to the U.S. House in 1992.
She is divorced and has a son.
Profile
Eddie Bernice Johnson, the first black U.S. representative from the Dallas area, has established her credentials as a reliable liberal and pro-business pragmatist.
Johnson faced her first primary challenge in May 2012, defeating two other candidates, a challenge that stemmed from revelations in 2010 that she had directed scholarships to her relatives or the relatives of her staff.
Johnson is the ranking member of the House Science, Space, and Technology Committee, and in May 2012 she commended NASA and SpaceX on the successful docking of the Dragon cargo vehicle at the International Space Station.
"If the promise of the International Space Station is to be achieved, it is essential that a reliable and cost-effective means to transport cargo to the ISS be available ... I want to congratulate NASA and SpaceX and their dedicated and talented employees on this significant accomplishment," she said in a press release.
Johnson stepped into the immigration arena in 2009, joining Democratic Rep. Luis Gutierrez of Chicago on a nationwide tour seeking testimony from families that had been split up by enforcement of immigration policy. Johnson supports reforming the immigration system.
She has adopted health care and job training as her key issues. She has cast votes in favor of the family leave bill and against parental notification for abortions for minors in federally funded clinics. She also voted against the ban on a procedure critics call "partial birth abortions."
She opposed efforts by Republican Rep. Joe Barton to extend clean air deadlines for Dallas area communities. She said children should not have to suffer longer because industry has a friend in Congress.
Johnson has used her post on the Transportation and Infrastructure Committee to support an amendment that allows commercial flights out of Dallas' Love Field.
She co-sponsored a bill after Sept. 11 to provide funding for increased security on commercial buses such as Greyhound.
Johnson opposed an effort by lawmakers to allow commercial airline pilots to carry guns in the cockpit, saying if a hijacking occurs, "pilots must concentrate on maintaining control and landing the plane as soon as possible and not on confronting terrorists with weapons."
In 2007, she was appointed chairwoman of the House Transportation and Infrastructure subcommittee on water resources and the environment. She also serves on the subcommittee on aviation and the subcommittee on railroad, pipelines and hazardous materials.
Johnson reintroduced a bill in February 2009 promoting gender equity among university faculty in science, technology, engineering and mathematics.
She authored a House resolution in March 2010 that recognized contributions of African-American scientists.
Johnson is a former chair of the Congressional Black Caucus.
Source: Associated Press