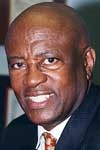 Birthdate: July 21, 1934
Birth Place: Chadbourn, NC, United States
Residence: Brooklyn, NY
Religion: Baptist
Gender: Male

Candidacy
Education
Ed Towns was born in Chadbourn, N.C., and now resides in Brooklyn, N.Y. He earned a bachelor's degree in 1956 from the North Carolina Agricultural and Technical State University and a master's degree in social work in 1973 from Adelphi University.
Towns taught in the New York City public school system and worked in health care, minority education and community programs in the city. He was director of the Metropolitan Hospital and was assistant administrator at Beth Israel Hospital from 1965 to 1975. Towns taught at Medgar Evers College in Brooklyn.
He was executive assistant to Brooklyn Borough President Howard Golden and was deputy borough president from 1978 to 1982.
Towns was elected to the U.S. House in 1982.
He and his wife, Gwendolyn, have two children.
Profile
Ed Towns announced in April 2012 that he would not run for a 16th term and would retire in January 2013 after 30 years in Congress. Towns had faced a three-way Democratic primary.
Towns expended a lot of energy fending off primary challenges in 2006 and 2008, but he ran unopposed in the 2010 primary.
In 2008, former reality-television star Kevin Powell _ from the first season of MTV's "Real World" _ tried to force Towns' retirement. Powell got a lot of attention but Towns beat him handily in the Democratic primary. Two years earlier, Towns faced a strong challenge from city councilman Charles Barron, but managed to survive in large part due to a third primary candidate, who siphoned off critical votes.
Stung by criticism during the 2006 campaign that he had lost touch with his district, Towns spent 2007 and 2008 lobbying intensely to preserve affordable housing in Starrett City, the largest federally subsidized apartment complex in the nation.
In March 2009, Towns introduced the Great Ape Protection Act, which would prohibit conducting invasive research on great apes. Specifically, the bill would ban any research that could cause distress, pain, injury or death on the 1,000 chimpanzees remaining in U.S. laboratories. It would also retire to permanent sanctuary some 500 federally owned chimpanzees in those labs.
Towns voted for the 2009 approximately $800 billion economic stimulus package and the 2010 health care reform bill. He applauded the June 2012 decision by the Supreme Court upholding the health care legislation.
He has been a staunch defender of fellow New York Rep. Charles Rangel during the House investigation into ethics charges against Rangel. Towns told reporters Rangel was sloppy in some of his bookkeeping and financial reporting but that "there's no criminality here."
Towns has led an effort to spur more life-saving organ donations, supporting a measure that authorizes the Department of Health and Human Services to spend $5 million a year to reimburse qualified donors. Towns said the extra help is necessary so that "those who want to give the gift of life are not swayed by financial constraints."
He was one of a handful of representatives who endorsed Rev. Al Sharpton's bid to become the 2004 Democratic presidential nominee. He said at the time that Sharpton's anti-war, anti-Bush rhetoric was "telling it like it is."
While Towns is liberal on many issues, tobacco is one area where he strays. The North Carolina native has worked to defend the tobacco industry against additional controls being placed on cigarettes.
Towns supports abortion rights and opposes the death penalty.
Source: Associated Press