Elijah Emanuel Cummings
House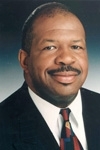 Birthdate: Jan. 18, 1951
Birth Place: Manning, SC, United States
Residence: Baltimore, MD
Religion: Baptist
First Elected: 1996
Gender: Male

Candidacy
Party: Democratic
State: Maryland
Office: House
District: District 7

Education
Undergraduate: Howard University
Degree: BA

Graduate: University of Maryland
Degree: JD

Elijah Cummings was born in Manning, S.C., and now lives in Baltimore. He earned a bachelor's in 1973 from Howard University and a law degree in 1976 from the University of Maryland.
Cummings was admitted to the state bar and operated his own law practice in Baltimore. He served in the Maryland House of Delegates for 16 years.
He was elected to the U.S. House in 1996.
Cummings has two daughters from a previous marriage.
Profile
Elijah Cummings represents Maryland's 7th District, which cuts across much of the impoverished inner city of Baltimore and into affluent suburbs to the west.
As a man who has been robbed at gunpoint, had his home burglarized and his car broken into on multiple occasions, Cummings says he is not easily shocked or disillusioned. He is a longtime advocate of gun control and better witness protection.
While he is familiar with comforting the families of violent crime victims and speaking at funerals, he gave the eulogy for a nephew who was shot and killed in a random shooting near Old Dominion University in Virginia in June 2011.
"When it hits your house and it hits your family, I'll tell you, it's a lot different because I think it gives you a far better understanding of what people are feeling in those circumstances, and you can also understand the pain and the anger and the desire for closure _ that is, making sure that whoever might be responsible for an incident like this is brought to justice," Cummings said.
Cummings, who is the ranking member of the House Committee on Oversight and Government Reform, criticized the House GOP budget plan that was released in March of 2012, saying it was "misguided, utterly unfair and should be rejected outright."
"I am very disappointed that the House GOP has once again unveiled a budget that directly attacks the federal workforce by extending pay freezes, increasing retirement contributions, and arbitrarily slashing the overall size of the federal workforce," Cummings said in a statement at the time.
Cummings was an early backer of then-Sen. Barack Obama's 2008 presidential bid, and he has been highly supportive of President Obama's initiatives in Congress.
He was an outspoken supporter of the financial regulation reform bill passed by Congress in July 2010, and he was on the conference committee that worked out differences between the House and Senate versions of the bill.
Cummings is the chairman of a subcommittee on the Coast Guard and maritime transportation, and he raised questions in May 2012 about why the Coast Guard had essentially no role in approving the 2010 Deepwater Horizon oil spill response plans developed by entities drilling in the Gulf of Mexico or other offshore locations.
Cummings was supportive of the 2010 health care reform bill.
"We have waited for meaningful health care reform for more than six decades. When our hopes are realized, we will see immediate benefits," Cummings said in March 2010.
Cummings is the son of black sharecroppers who moved to Maryland. During 16 years in the Maryland House of Delegates, he earned a reputation as one of the General Assembly's best orators, passionately describing the plight of the poor and addicted.
Source: Associated Press