Eliot L. Engel
House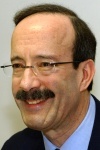 Birthdate: Feb. 18, 1947
Birth Place: Bronx, NY, United States
Residence: Bronx, NY
Religion: Judaism
First Elected: 1988
Gender: Male

Candidacy
Party: Democratic
State: New York
Office: House
District: District 16

Education
Undergraduate: Hunter-Lehman College
Degree: BA

Graduate: City University of New York - Lehman College
Degree: MA

Graduate: New York Law School
Degree: JD

Eliot Engel was born in Bronx, N.Y., where he still resides. He earned a bachelor's in history in 1969 from Hunter-Lehman College, later named Lehman College, where he earned a master's in guidance and counseling in 1973. He earned a law degree in 1987 from New York Law School.
Engel was a teacher and guidance counselor in the New York public school system. He was elected to the New York Assembly in 1977 and served until his election to the U.S. House in 1988.
Engel and his wife, Pat, have three children.
Profile
Eliot Engel opposes significant changes in Medicare and Social Security. He opposes plans to cut the budget deficit at Medicare's expense and he says Social Security's problems can be resolved without altering its "fundamental nature."
In 2011, he sponsored two bills designed to improve maternity care, including one that would combat gestational diabetes.
Engel wants the Indian Point nuclear plant to be closed but says he does not dismiss nuclear power. He says the 2010 health care reform bill may not be perfect but is a significant step forward.
He is a fervent supporter of Israel.
On immigration, Engel favors "a clear path for earned legalization so that these individuals may contribute positively to our society."
In April 2010, the House passed a bill sponsored by Engel and Republican Rep. Joe Barton that would make illegal the use of false caller ID with the intent of tricking people into revealing personal information or otherwise causing harm. Similar measures have previously passed the House.
Engel fought unsuccessfully against much of President George W. Bush's energy agenda, at one point calling the funding of ethanol fuels "welfare for farmers."
Engel voted for the 2009 approximately $800 billion economic stimulus bill.
Those looking for Engel can always catch a glimpse of him at the annual State of the Union address. He arrives early to position himself right inside the House door, making him one of the first inside the chamber to shake the president's hand on television.
He sat for an interview in 2006 with Comedy Central's "The Colbert Report," during which the host, Stephen Colbert, decided to comb Engel's trademark mustache.
Source: Associated Press