Emanuel Cleaver, II
House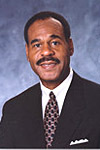 Birthdate: Oct. 26, 1944
Birth Place: Waxahachie, TX, United States
Residence: Kansas City, MO
Religion: United Methodist
First Elected: 2004
Gender: Male

Candidacy
Party: Democratic
State: Missouri
Office: House
District: District 5

Education
Undergraduate: Prairie View A&M University
Degree: BS

Graduate: St. Paul School of Theology
Degree: MA

Emanuel Cleaver was born in Waxahachie, Texas, grew up in Wichita Falls, Texas, and now resides in Kansas City, Mo. He lived in public housing as a child. He received his bachelor's degree from Prairie View A&M University.
He comes from a family of ministers, attended divinity school and was a senior pastor at St. James United Methodist Church in Kansas City, a position one of his sons now holds.
Cleaver founded the Kansas City chapter of the Southern Christian Leadership Conference.
He worked for Greater Kansas City YMCA, Catholic Charities and briefly for the company that became Allied Signal Inc.
Cleaver served two terms on the Kansas City Council beginning in 1979, and was elected to his first of two successive terms as mayor in 1991. He was Kansas City's first black mayor.
He was elected to the U.S. House in 2004.
Cleaver and his wife, Dianne, have four children.
Profile
Emanuel Cleaver is a minister and former Kansas City mayor and has shown his pastoral tendencies by willingly admitting when he believes he has made a mistake as a congressman.
After voting in March 2009 to levy a large tax on the bonuses of executives at companies that received federal assistance, Cleaver later said at a Missouri-Kansas breakfast forum, "I joined the cowards." That vote, Cleaver said, "was the only time since I've been in Congress that I was embarrassed to go home." In retrospect, he said the vote seemed ill-considered, mean-spirited and a knee-jerk reaction.
Cleaver and U.S. Reps. John Lewis and Andre Carson said in March 2010 that some demonstrators, many of them tea party activists, yelled a racial epithet at the black congressmen as they walked from House office buildings to the Capitol. Cleaver also said he was spit on. A white lawmaker said he also heard the epithets, but conservative activists have accused the lawmakers of lying.
Cleaver and his wife own a Grandview car wash that is part of a legal dispute between the Cleaver Co. LLO and Bank of America, which sued the company in March 2012 to recover more than $1.5 million from a loan backed by the federal Small Business Administration.
Cleaver focused on housing and urban issues during his first term in the House. He worked with other Democrats to prevent cuts in Community Development Block Grant funds that President George W. Bush proposed in his 2005 budget plan, which was ultimately shelved by a Senate committee.
Cleaver is known as a masterful orator. He won election to Congress in 2004 to fill an open Kansas City-area seat. He succeeded Democratic Rep. Karen McCarthy, who announced her retirement after being accused of misusing government workers and campaign dollars for her own benefit.
Cleaver has one of Kansas City's busiest thoroughfares named for him, in tribute to his nearly 30 years in Kansas City government. He also has a national profile from his two terms as president of the National Conference of Black Mayors.
Even though he left public office after his second term as mayor, Cleaver remained in the spotlight. He was head pastor at a large church, St. James United Methodist, and remained active in the community, even hosting a local radio call-in show.
He was named chairman of the Congressional Black Caucus in January 2011, and touts his efforts to restore civility to the halls of Congress.
Cleaver was unchallenged in the 2012 Democratic primary in the state's 5th Congressional District, which covers much of Jackson County and parts of several neighboring rural counties.
As leader of the 43-member Black Caucus, Cleaver has been critical of President Barack Obama's inability to generate more jobs, especially among blacks.
Source: Associated Press