Eric Michael Swalwell
House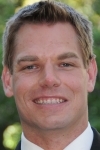 Birthdate: Nov. 16, 1980
Birth Place: Sac City, IA, United States
Residence: Dublin, CA
Religion: Christian
Gender: Male

Candidacy
Party: Democratic
State: California
Office: House
District: District 15

Education
Undergraduate: University of Maryland
Degree: BA

Graduate: University of Maryland
Degree: JD

Eric Swalwell was born in Sac City, Iowa, and raised in Dublin, Calif., where he now resides. He attended the University of Maryland, where he earned a bachelor's in government politics and a law degree.
Since 2006, Swalwell has worked as a deputy district attorney for Alameda County. He has served as a Dublin City Council member since November 2010.
Swalwell was also a member of Dublin's planning, heritage and cultural arts commissions. He also served as a student member with the College Park City Council in Maryland.
He is single.
Profile
Eric Swalwell, a young county prosecutor, is a Democrat challenging 20-term Democratic Rep. Pete Stark in Northern California's newly drawn 15th District.
The 31-year-old Alameda County deputy district attorney came in second in California's first top-two primary. Stark came in just 7 points ahead of Swalwell, who had never run for state or federal office.
In a debate against Swalwell, Stark _ who is known as a volatile politician _ accused his young opponent of accepting "hundreds of thousands of dollars in bribes" from land developers in exchange for zoning privileges. Stark later retracted the charge and apologized.
Swalwell has been a Dublin City Council member since November 2010 and is a former Dublin planning commissioner. He has taken unpaid leave from his job as county prosecutor to conduct the campaign.
Swalwell has criticized Stark and other members of Congress for spending the majority of their time in Washington, D.C., instead of in their district with constituents. He has proposed the idea of a "mobile Congress," where members would participate remotely in hearings and cast votes remotely, while spending most of their time at home in the district.
He wants to abolish the No Child Left Behind Act and increase funding for education, while decreasing funding for defense. He also advocates creating new jobs in renewable energy with the help of federal stimulus money. And, he says he would work to raise the Social Security cap, so that wealthier Americans also pay into the program.
Swalwell played NCAA Division I college soccer on an athletic scholarship. After he was injured, he lost the scholarship and got interested in a career in politics. After college, he coached youth soccer in the Tri-Valley area.
Source: Associated Press