Filemon Vela
House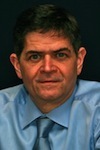 Birthdate: Feb. 26, 1963
Birth Place: Harlingen, TX, United States
Residence: Brownsville, TX
Religion: Roman Catholic
Gender: Male

Candidacy
Party: Democratic
State: Texas
Office: House
District: District 34

Education
Undergraduate: Georgetown University
Degree: BA

Graduate: University of Texas
Degree: JD

Filemon Vela was born in Harlingen, Texas, and raised in Brownsville. He received a bachelor's degree from Georgetown University and a law degree from the University of Texas.
He then spent more than two decades working as a civil attorney in Brownsville before announcing in February 2012 that he was seeking a Brownsville-anchored congressional seat that was in one of four new congressional districts Texas received due to its population growth in 2010.
Vela's late father, Filemon B. Vela, served as U.S. District judge for more than two decades in the Brownsville Division of the Southern District of Texas. His mother, Blanca Vela, once served as mayor of Brownsville.
Filemon Vela has spent much of his legal career engaged in public service and working with grassroots, community groups, experience he has drawn on when running for Congress in a new district that is believed to be heavily Democratic.
Vela and his wife, Rose, a justice on Texas' 13th Court of Appeals, live in Brownsville.
Profile
Filemon Vela, a political novice, won the Democratic nomination for Texas' newly created 36th Congressional District seat in a crowded field of eight Democratic hopefuls.
The heavily Hispanic district is thought to be a slam-dunk for the Democrats.
His wife is a Republican Court of Appeals judge, and activists in the Republican Party in and around Brownsville say there had been speculation in early 2012 that Vela would run as a Republican.
Vela's chief primary opponent was Brownsville District Attorney Armando Villalobos, who led all Democratic congressional candidates in fundraising until just two weeks before the May 2012 contest, when he was indicted on federal fraud charges. Villalobos was the latest official caught in a sweeping corruption probe that had already brought down a former local judge and ex-state representative. He is accused of accepting more than $100,000 in bribes in exchange for favors, including bringing lesser charges against key defendants.
No Democratic candidate for the new congressional seat won an outright majority in Texas' May 2012 primary, but Vela advanced to a runoff against Denise Saenz-Blanchard. He prevailed in the July runoff and cited his bipartisan spirit and "common sense" to work with leaders from both political parties.
Regarding immigration, Vela believes that more jobs in law enforcement need to be created to support federal, state and local efforts to protect South Texas from border violence. He supports a reasonable path to citizenship for undocumented immigrants who have paid their taxes and who have been contributing members of American society.
Vela favors ending American dependence on foreign oil and wants to fight for more access to explore the natural resources in South Texas.
Source: Associated Press